Apple's iPhone 5 and Samsung's Galaxy S III now equals in North American web use, study says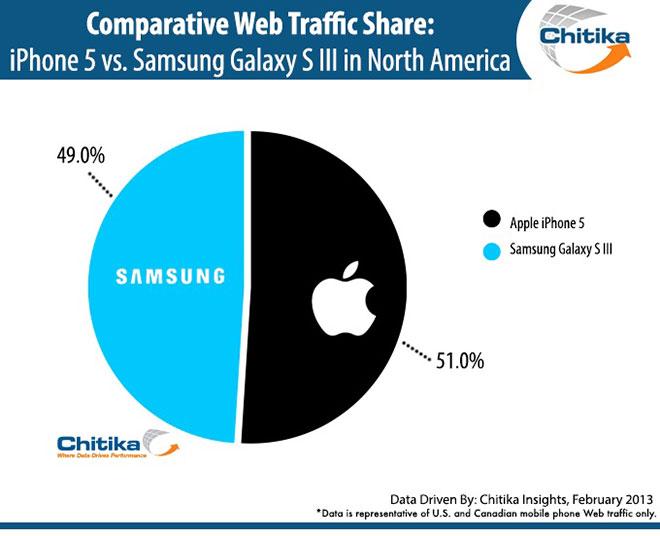 Fresh information from the Chitika ad network points to a near 50/50 split when comparing the North American web share of Apple's iPhone 5 and Samsung's Galaxy S III, but overall, iOS devices still account for a majority of the market.
While the iPhone 5 still has a slight lead over the Galaxy S III, Chitika Insights' comparison data shows the Samsung handset has made up substantial ground since the last study was performed in October 2012.
The firm's research arm harvested the latest statistics from "tens of millions" of U.S. and Canadian smartphone mobile ad impressions seen across its network from Feb. 1 through Feb. 9.
According to the data, a direct comparison in web marketshare saw the iPhone 5 take a 51 percent stake, meaning the S III came up with 49 percent. In contrast, the October study found Apple's newest device to have an eight percentage point lead on Samsung's flagship handset.
Taking a look at broad overall impressions, the iPhone 5 accounted for 6.6 percent of traffic, compared to the Galaxy S III's 6.3 percent. Including all iPhone models currently being used in the U.S. and Canada, Apple took a 41.5 percent share of the market, representing a 4.5 percent drop from the time of the last study. Samsung boosted its overall presence to 20.6 percent over the same period, up from 17 percent in October.
Apple and Samsung dominated the market with a combined 62.1 percent marketshare, but that number is one percent below October's findings, suggesting that there is at least some churn taking place in the North American smartphone market.
It was recently reported that of Apple's smartphone web share, iOS 6 now accounts for 83 percent of all iOS traffic in North America. The stats are impressive given that the mobile OS was only released in September of 2012.