Preferred stock seen as Apple's chance to 'seize the opportunity' and reverse losses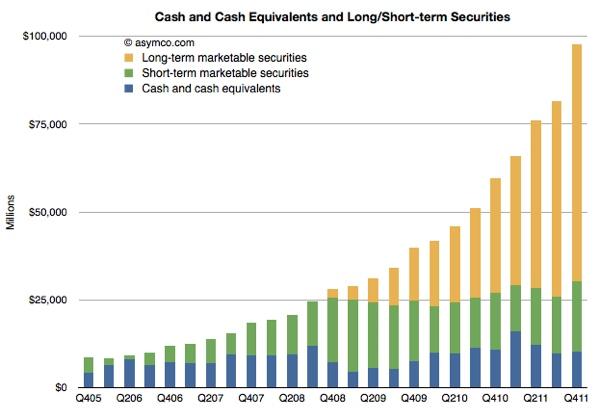 AppleInsider may earn an affiliate commission on purchases made through links on our site.
Apple now has a chance to reverse recent losses and boost its share price by providing even more of its cash reserves to investors, one analyst believes.
Brian White of Topeka Capital Markets said on Thursday he believes it's "time for Apple to seize the opportunity" and initiate a much more significant return of cash to investors. He agrees with hedge fund manager David Einhorn of Greenlight Capital, who is suing Apple in an attempt to have the company distribute preferred stock to shareholders.
White doesn't believe Einhorn is "married to the idea" of perpetual preferred stock. Instead, it's just a way to get Apple to share more of its cash reserves with shareholders.
At the end of the holiday quarter, Apple had $137.1 billion in net cash, amounting to $144.75 per share. Of that money, $94 billion is held overseas.
By the end of Apple's fiscal year 2015, White projects that Apple will have nearly $241 billion in cash. With the company's cash hoard continuing to grow, he believes "change is in the air," and the company will eventually pay out more cash to shareholders.
In particular, he noted that the 36 percent decline in Apple's stock since late September represents a shift in the company's shareholder base. Like Einhorn, White believes a more significant return of cash will attract value-oriented investors.Brian White projects that Apple will have nearly $241 billion in cash by the end of fiscal 2015.
"Since over $94 billion of the net cash is outside of the U.S., we believe David Einhorn's perpetual stock makes sense," White said. "Also, Apple could tap into the debt market to increase its U.S. cash position, using the proceeds for an increased common stock dividend and an expanded stock repurchase program."
White believes Apple could increase its cash dividend payout from its current $3.75 to $5.00 per share on a quarterly basis. He also thinks the company has room to ramp up its stock repurchase program to as high as $100 billion in a 5-year initiative.
Topeka Capital Markets has maintained its price target of $888 for AAPL stock — a number nearly twice that of its current trading price.