Adobe Photoshop Touch for iPhone brings powerful image editing to the iPhone and iPod touch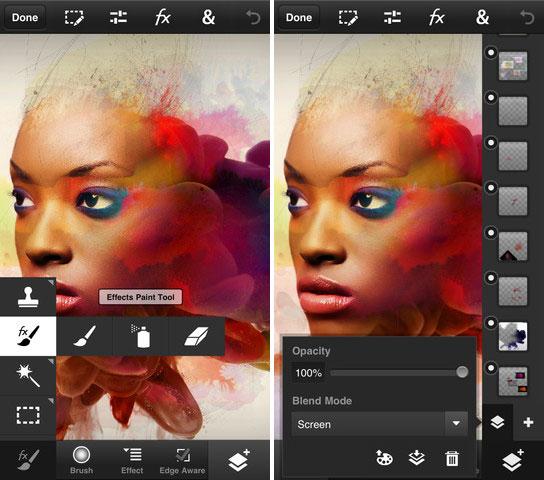 Adobe on Wednesday officially released the latest iteration of its mobile Photoshop software, Photoshop Touch for Phone, bringing powerful image editing to the iPhone and iPod touch.
Photoshop Touch for Phone is surprisingly full-featured for an app built to take on small format screens like the iPhone, boasting niceties users of the desktop version have become accustomed to, including layers, adjustment tools and filters.
Improve your photos using classic Photoshop features to bring out the best in your photography. Apply precise tone and color adjustments to your entire composition, a particular layer, or a select area.
Create something other-worldly using painting effects, filter brushes, and so much more. With Photoshop Touch, the creative possibilities are endless.
Make your images pop with graphical text. Apply strokes, add drop shadows and fades, and more.
Take advantage of your device's camera to fill an area on a layer with the unique Camera Fill feature.
Quickly combine images together. Select part of an image to extract just by scribbling with the Scribble Selection tool. With the Refine Edge feature, use your fingertip to easily capture hard-to-select image elements, like hair.
Work on high-resolution images while maintaining the highest image quality. Images up to 12 megapixels are supported.
Buyers will also get access to Adobe Creative Cloud, which allows users to sync projects and switch between Photoshop mobile and desktop versions. The membership includes 2GB of Creative Cloud storage
Along with the image editing feature set and Creative Cloud integration, users can easily share their work with friends through via Facebook and Twitter, as well as the usual "save to camera roll" iOS compatibility.
The iOS version of the app weighs in at 32.2MB and requires iOS 6 running on an iPhone 5, iPhone 4S or fifth-generation iPod touch. Adobe Photoshop Touch for Phone is available now in the App Store for $4.99.