After 'astonishingly' poor quarter, Mac sales predicted to rebound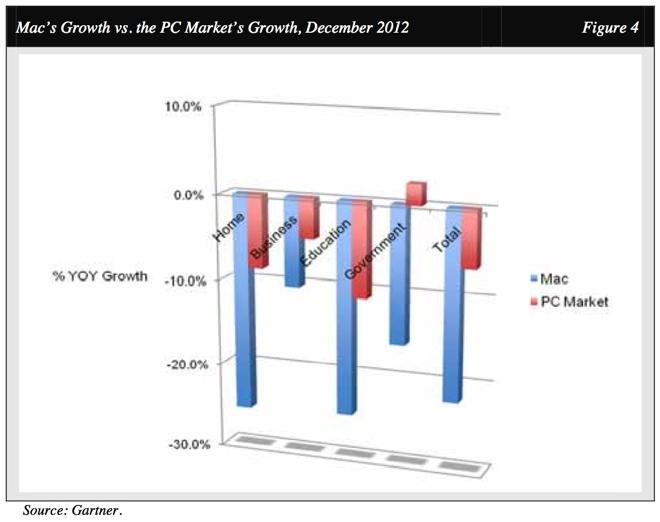 Mac sales outgrew the overall PC market for 26 consecutive quarters until December, but Apple is expected to see sales improve in the current quarter.
The Mac's sudden collapse in the December quarter was described as "astonishing" by analyst Charlie Wolf of Needham & Co. on Friday. He noted that Mac shipments fell below PC shipment growth in all geographic regions and segments in the quarter.
"There was absolutely not one iota of positive news in the Mac shipment numbers," Wolf said.
Apple blamed the Mac's poor quarter, in which shipments fell by 22.1 percent year over year, on a lack of availability of the iMac. The new all-in-one desktop went on sale in the month of December, but supply was severely constrained through the end of the quarter, and Apple has still not yet caught up with demand.
However, there are signs that iMac availability is improving, as the NPD Group reported this week that domestic Mac sales were up 31 percent year over year in the month of January. As a result, Wolf believes Apple could be in a position to surpass the overall PC market again in the current March quarter.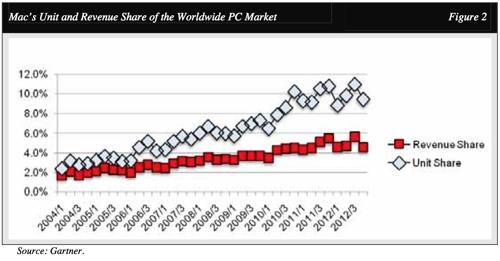 Beating the PC market may not even require year over year growth. For example, Mac sales were down 6.1 percent in the third quarter of 2012, but that still managed to outperform the overall PC market, which was down 13.8 percent in the quarter, according to Gartner.
Beyond limited iMac availability, Wolf said that it's likely that a "material percentage of consumers" opted to buy an iPad over a Mac. He also noted that Apple's recent price cuts on its MacBook Pro models with Retina displays are a sign that the company "overestimated the allure" of its high-end notebooks.
Finally, Wolf admitted that Microsoft's new Windows 8 operating system will present "a major test" to the Mac, particularly in the business market. He believes the tiled Metro interface employed by Microsoft is a refreshing alternative to the iPhone and Android devices, but said it's an "unanswered question" whether the interface will catch on with desktop PCs.
"It's conceivable that desktop users will eventually fall in love with the new interface," Wolf said. "In the meantime, however, Metro involves a steep learning curve."