Apple PC shipments reach new high of 13.6% despite contracting global market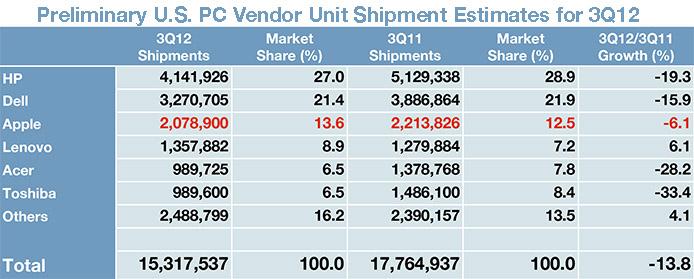 Estimates released Wednesday from market research firms show overall U.S. PC shipments fell nearly 14 percent year-to-year in the third quarter of 2012, while Apple's share shrunk 6.1 percent over the same period.
The preliminary U.S. estimates from Gartner saw Apple, which shipped more than 2 million units to garner 13.6 percent of the market in the third quarter, remain firmly in third place behind HP and Dell, though both leaders saw double-digit contractions of 19.3 percent and 15.9 percent, respectively. Market leader HP shipped over 4.1 million PCs in the September quarter to capture 27 percent of the U.S. market, while Dell managed over 3.2 million units to end with a 21.4 percent share.
Directly behind Apple was Lenovo, the only top-five company to exhibit growth in the U.S. market, shipping some 1.35 million units to end the period with an 8.9 percent share of the market, up 6.1 percent from the year-ago period. The Chinese computer maker clawed its way past Acer and Toshiba, which saw negative growth of 28.2 percent and 33.4 percent, respectively. Only 125 units separated the two last-place companies, with Acer shipping 989,725 PCs in the U.S. compared to Toshiba's 989,600.
For the second straight quarter, Toshiba posted the greatest decline, slipping into last place among the top-six.
"The third quarter has historically been driven by back-to-school sales, but U.S. PC shipments did not increase, not even sequentially, from the second quarter of 2012. Channels were conservative in placing orders," said Mikako Kitagawa, principal analyst at Gartner. "Professional PC shipments in the U.S. began slowing in the second quarter of this year, and they continued the trend in the third quarter. The results indicate that the replacement peak may have passed in the professional sector."
The global PC market saw Lenovo take the number one spot for the first time ever, with the company shipping over 13.7 million units to capture 15.7 percent of the market, a 9.8 percent bump from the same time last year. Aggressive pricing catering to the professional sector is attributed to the company's surge.
While Lenovo enjoyed substantial growth in the third quarter, the overall PC segment was hit with an precipitous drop in shipments due to the imminent launch of Microsoft's Windows 8. Overall, global PC shipments dropped 8.3 percent year-to-year, with shipments barely creeping over 87.5 million units.
"Retailers were conservative in placing orders as they responded to weak back-to-school sales. By the end of September, retailers were focused on clearing out inventory in advance of the Windows 8 launch later this month," Kitagawa said. "On the professional side, there was minimum impact from Windows 8 in the quarter because the professional market will not adopt Windows 8 PCs immediately after the release."
Former global leader HP was hit with a steep 16.4 percent slowdown, bringing its share of the market down to 15.5 percent on 13.5 million units shipments.
Following HP was Dell with over 9.2 million units shipped to end the quarter with a 10.5 percent share of the market, down 13.7 percent year-to-year. Acer also experienced a decline in growth, managing to pick up 9.9 percent of the market on shipments of 8.6 million units, down 10.2 percent from a year ago.
Besides Lenovo, ASUS was the only other top-five company to exhibit growth, increasing its worldwide share to 7.3 percent, an 11.8 percent increase from the same period in 2011.
IDC estimates
In a separate set of estimates published by IDC, Apple took only 12.5 percent of the U.S. market on shipments of 2.05 million units, a 7 percent drop from quarter three 2011. The slightly more conservative outlook was based on a consumer market focused on purchasing competing products and a commercial sector affected by uncertainty in the wider global economy.
HP took the top spot in IDC's estimates of both the U.S. and global shipments, retaining a 26.1 percent and 15.9 percent share of each, respectively. Growth was down year-to-year, however, with a U.S. contraction of 18.8 percent on just under 4.3 million shipments, while worldwide performance slumped 16.4 percent on 13.9 million units shipped.
Dell came in second with 3.4 million U.S. shipments for the third quarter, but it too suffered a double-digit growth contraction of 16 percent to finish the period with 20.7 percent of the market. As for the company's worldwide performance, Dell came in third after dipping 14 percent year-over-year, falling to 10.8 percent of the market.
Compared to Gartner's estimates, the IDC put Lenovo up 9.2 percent for the three month period, giving the company 8.3 percent of U.S shipments. Globally, the Chinese computer maker's shipments grew 10.2 percent to take 15.7 percent of the market, just behind HP.
"PCs are going through a severe slump," said Jay Chou, IDC Senior Research Analyst. "The industry had already weathered a rough 2Q12, and now 3Q12 was even worse. A weak global economy as well as questions about PC market saturation and delayed replacement cycles are certainly a factor, but the hard question of what is the 'It' product for PCs remain unanswered. While Ultrabook prices have come down a little, there are still some significant challenges that will greet Windows 8 in the coming quarter."
Like Gartner, IDC sees the upcoming Windows 8 launch as a main factor in the global PC shipment slowdown, though performance in the sector should pick up during the fourth quarter. It is unclear how the Microsoft release will affect Apple's share of the market, as Lenovo's strong performance could spill into the holiday season and beyond.