Apple's digital content resale and loan system could allow DRM transfers between end users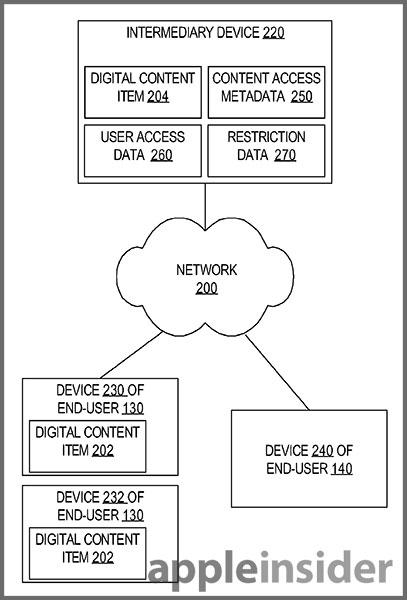 The U.S. Patent and Trademark Office on Thursday published details of an exhaustive Apple invention covering the resale and loan of owned digital content like e-books, music and movies, possibly portending an upcoming addition to iTunes.
The patent is outlined in three divisional applications, each titled "Managing access to digital content items," with two filed in September of 2011, and one in June of 2012. From the most recent filing, Apple describes a system that manages the authorized transfer of owned digital content between end-users. The invention is basically a system that allows purchasers to sell or loan "used" content to other people.
Interestingly, Amazon was recently granted a patent for a nearly identical system, though the online retailer's solution calls for a centralized marketplace while Apple's is largely distributed. Amazon first filed for its property in 2009.
Apple's filing provides for the authorized access to digital content, otherwise known as digital rights, to be transferred from one user to another. As an example, a first user may purchase an e-book from the iBookstore and later decide to sell that content to a second user. The original owner notifies the store that they want to sell the item, and if certain criteria are met, the user is allowed to transfer rights to the second buyer. Content itself may or may not change hands, but more importantly the rights attached to said content is managed so that the first user can no longer access the content once it is sold.
The invention decentralizes the process by taking the online store out of the equation:
Alternatively, instead of a third party determining whether one or more criteria are satisfied, the first (or second) user's device makes the determination and may be responsible for preventing the first user's device from further consuming the digital content item. In some embodiments, the online store and/or the publisher of the digital content item may receive a portion of the proceeds of the transfer.
It should be noted that the content need not reside permanently, or at all, on a user's device, meaning the system can be cloud based.
Key to the system's operation is ownership history. As the "used" content is passed from one user to the next, a database is established so that the proper owner is allowed access to the item and can then choose to transfer those rights to yet another party.
Transferral of authorized access can be device-to-device through an intermediary like an online store, device-to-device without an intermediary, meaning verification must be established at a later time. In another embodiment, no device-to-device transfer is necessary.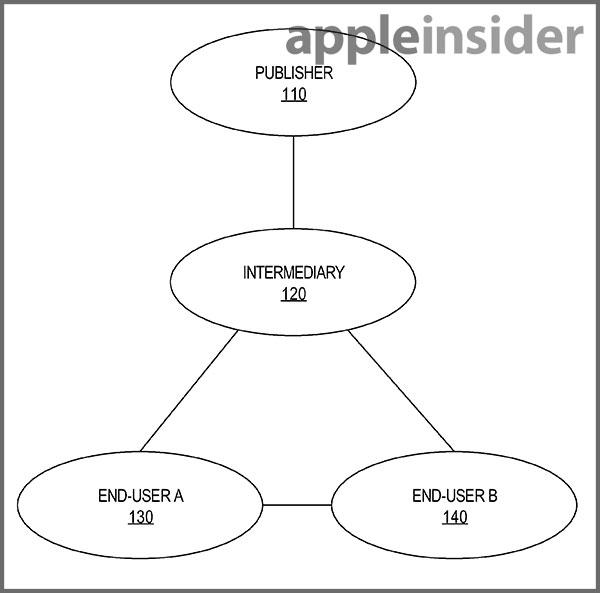 Restrictions of transfer are a means to manage the flow of content between end users and can be set by the publisher. For example, a certain e-book may not be resold within a six month period and must have a resale price of at least $5. The restrictions can be set on a timed basis, frequency of transfer, price and to whom the content is sold.
Proceeds are also discussed, with publishers or content makers sometimes granted rights to a portion of the resale value. These percentages are based on time and how many transfers have been completed for a particular item. Gifting is also supported, with proceeds for these transfers split between the end user and publisher.
Other embodiments deal with temporary transfers, partial transfers, delayed transfers and loans.
Eliza C. Block and Marcel Van Os are credited as inventors of all three applications, while E. Caroline F. Cranfill, Alan C. Cannistraro, William M. Bachman and Timothy B. Martin were added to the list for one of the 2011 filings.