A year after Apple announced its dividend, 'timing could be right' for another cash deployment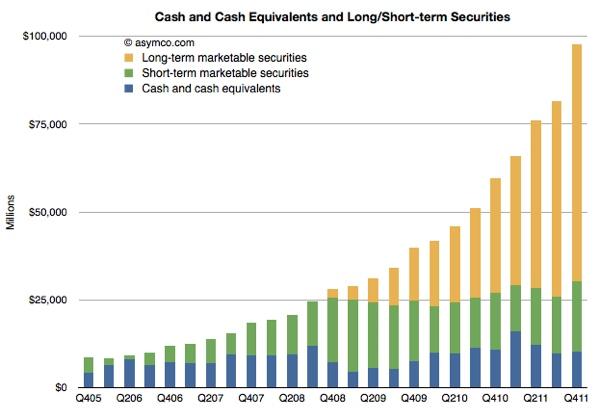 AppleInsider is supported by its audience and may earn commission as an Amazon Associate and affiliate partner on qualifying purchases. These affiliate partnerships do not influence our editorial content.
It's been almost a year since Apple announced its quarterly dividend and stock buyback plan, and with the company's annual shareholder meeting just concluded, one analyst believes Apple may soon reveal more uses for its $137 billion in cash.
It was March 19 of last year that Apple announced it would spend $45 billion over three years on a quarterly dividend and share repurchase program. On Monday, just over a week before that anniversary, analyst Brian White with Topeka Capital Markets said he thinks Apple is in a good position to announce its next move.
Apple added $38 billion in cash in fiscal 2011, but $16 billion in just the last quarter. Chart by Asymco.
"Given that Apple's recent shareholder meeting is out of the way and David Einhorn has completed his cash distribution campaign, the timing could be right for a bigger deployment of cash," he said.
While Apple held $137.1 billion in net cash at the end of the December quarter, White projects that money will grow to $241 billion by the end of Apple's fiscal year 2015. As the company's cash and investments continue to grow, some investors have heightened their calls for Apple to find a use for the money.
White believes Apple could increase its cash dividend from its current amount of $2.65 per share to between $3.75 and $5.00 per share on a quarterly basis, representing an annual yield of 3.5 percent to 4.6 percent.
Apple could also increase its stock repurchase program to as much as $100 billion as part of a 5-year initiative, the analyst believes.
Apple's annual shareholder meeting was held late last month, where Chief Executive Tim Cook admitted he is not happy with his company's stock performance over the last six months. But he also encouraged investors to think long term about Apple rather than concentrating on short-term trends.
The meeting went by without any movement toward a proposal from Einhorn, a hedge fund manager who made waves in suing Apple and attempting to persuade the company into providing preferred shares as a way to encourage investment and provide more of its cash to shareholders. For its part, Apple referred to the attention as a "sideshow."
Last week another prominent investor, Warren Buffett of Berkshire Hathaway, said he believes Apple should buy back more of its stock while it's at a depressed value. Beyond that, he said Apple's best strategy is to simply run its business well.