Apple, Google, Samsung plan to go green with new campuses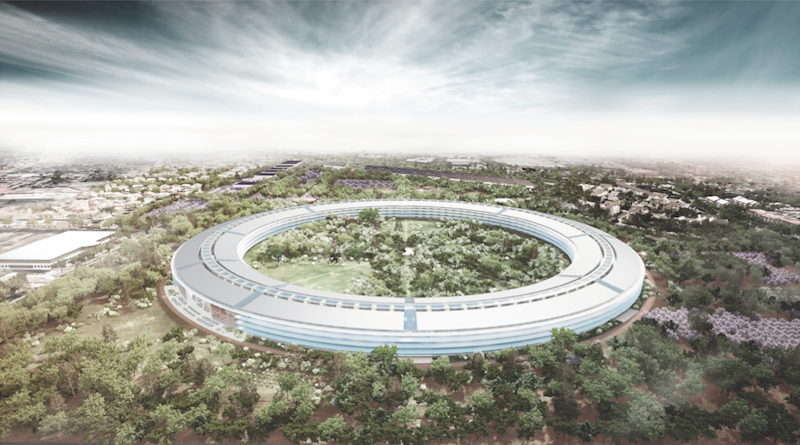 Apple's forthcoming "spaceship" campus isn't just easy on the eyes. As is the case with planned facilities for Google, Facebook, and Samsung, it will be designed to be more environmentally friendly than its predecessor, continuing a trend that has seen tech companies across Silicon Valley go green.
Bloomberg reported Thursday on the eco-consciousness trend that's sweeping the tech sector, noting that it arguably began with Apple's Campus 2 plans. Several of the largest names in technology are planning buildings that will be less along the lines of office parks and more like nature preserves.
Speaking at the company's annual shareholder meeting, Apple CEO Tim Cook made sure to point out that the company's new campus site will result in a good deal of land reclamation. The company will bulldoze all of the buildings currently occupying the grounds. Currently the site is 80 percent covered in asphalt and concrete; when the project is done, that number will be down to 20 percent.
Artist renditions of the planned facilities show its circular frame topped with solar panels, and the design is said to be energy self-sufficient.
Google, Facebook, Nvidia, and Samsung have also announced massive new campuses, and each appears to follow Apple's eco-conscious ideal.
Google's new facility, designed in part by architects at NBBJ, will restore eight acres of wetlands at a 42-acre Mountain View property. There is also talk that the building may contain a water recycling system. The buildings on Google's campus will have landscaped green roofs, cutting down on heating and cooling costs.
Facebook's campus will feature full-grown trees atop many of its buildings. Much of one structure will be hidden by greenery, giving the look of a wooded hillside rather than a warehouse-like building.
Going green in this fashion isn't cheap. Apple's plans involve planting 6,000 trees on its 176-acre property, including a 108-tree forested courtyard. Relocating full-grown specimens can run from $60,000 to $100,000 per tree.