Apple adds in-app purchase warning to 'freemium' App Store titles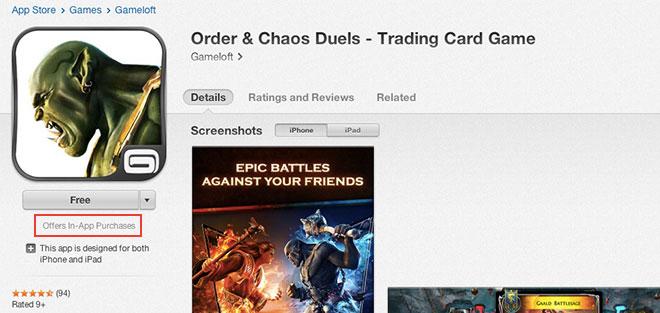 Attempting to lessen the incidence of unauthorized excessive in-app purchases, Apple quietly added a feature to App Store listings that points out when a free app features paid in-app content.
Users browsing the App Store today will notice that, underneath the "Free" price of some apps, there is a subtle note that the app "Offers In-App Purchases." The warning is currently only featured on the desktop-version of the App Store, but it may be making its way to the iOS version soon.
In-app purchases have been a point of contention for some iOS users, who assert that it is too easy to make inadvertent or unauthorized buys in third-party titles. In 2011, a Phoenixville, PA, man filed suit against Apple, claiming that the company had been allowed to "pocket millions of dollars" on unauthorized purchases, calling for Apple to revamp its password policy to prevent such transactions. Apple moved to settle the case in late February of this year, offering claimants $5 iTunes credits and refunds for claims over $30.
More recently, a Belfast boy charged £980 to his parents' iTunes account buying in-game donuts in an iOS Simpsons game. Apple refunded the money to the boy's parents, though the parents expressed concern that the same could happen to other people. Shortly before that incident, a five-year-old in Britain charged £1,700 to his parents credit cards while playing the game Zombie.