Apple hit with class-action suit over iPhone in-app game currency purchases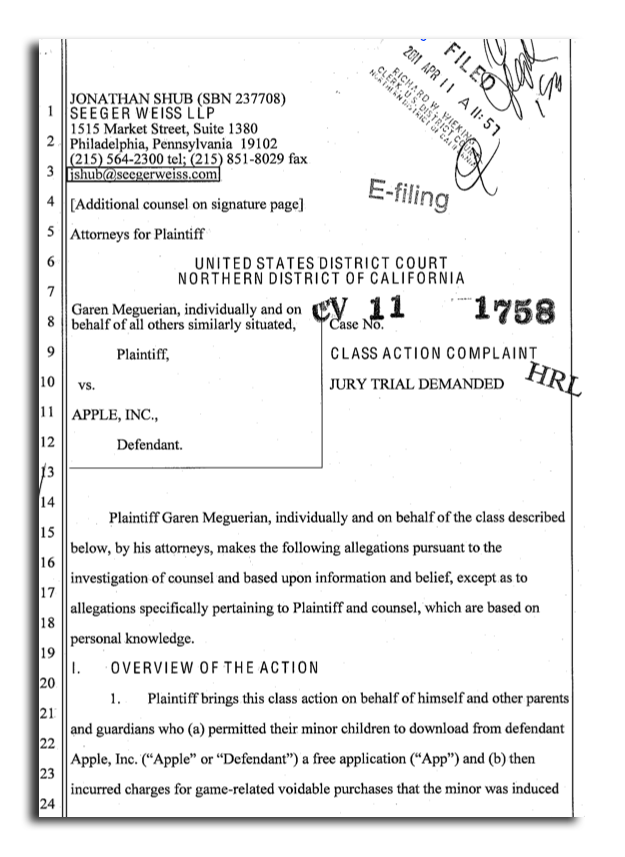 A new class-action lawsuit takes issue with free iPhone games that feature in-app purchases, alleging that Apple's App Store makes it easy for children to rack up credit card charges without realizing they are spending real-world money.
Garen Meguerian of Phoenixville, Penn., filed the suit this week on behalf of himself and other parents and guardians who he believes incurred unauthorized charges for game-related content. Those transactions came from children playing games on iOS devices like the iPhone, iPod touch and iPad, and making in-app transactions to purchase virtual goods.
Meguerian has two daughters, ages 12 and 9. He says that his youngest daughter was allowed to download a number of free games from the App Store, including "Zombie Cafe," "Treasure Story" and "City Story."
Though Meguerian allowed his daughter to download the free games, he said he had no idea that those games included virtual currency that could be purchased via real credit card transactions. Meguerian said his daughter's purchases of "Zombie Toxin," "Gems" and "City Cash" in free iPhone games cost him about $200.
The lawsuit notes that Apple has since addressed the issue by requiring a password for in-app purchases. Previously, once users entered their password to download an application, iOS offered a 15-minute window during which additional purchases could be made without entering the password.
But Meguerian believes that Apple's previous policy allowed the company to "pocket millions of dollars" from unauthorized transactions. And even the revised password policy found in iOS 4.3 isn't enough, he argued.
"Because the passwords now required for purchases of Game Currency are the same passwords required for any Apple purchase, minors aware of such password may purchase Game Currency without authorization from their parents for that purchase," the lawsuit reads.
The complaint also notes that the U.S. Federal Trade Commission in February decided to investigate Apple for its in-app purchase system. One popular title geared toward children that has been repeatedly cited is "Smurfs' Village" from Capcom, in which users can purchase 50 "Smurfberries" for $4.99, or 1,000 for $59.
Meguerian's lawsuit cites the title "Smurfs' Village" as relying on a "bait-and-switch business scheme." Other games mentioned in the suit are "Bakery Story," "Tap Zoo," "Tap Fish," "Glass Tower," "Sundae Maker," and "Cake Maker."
The complaint, filed in U.S. District Court in the Northern District of California, seeks damages and attorney's fees for the plaintiff and all others in the class.