Apple taps Omnicom's digital chief to run iAds in Europe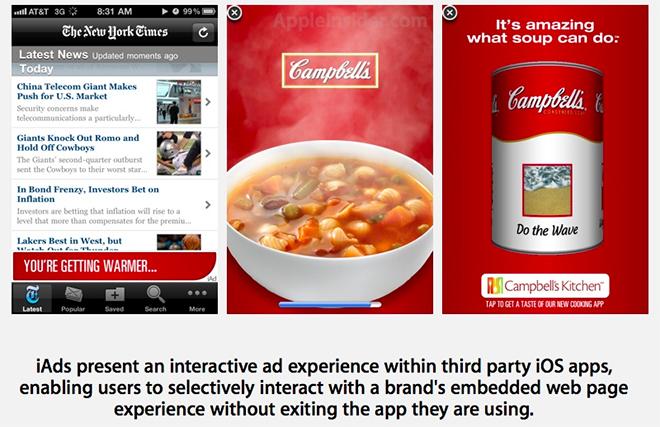 Omnicom Media Group Chief Digital Officer Paul Wright will take the helm of Apple's iAd operations for Europe, the Middle East, and Africa, according to a new report.
Wright comes to Apple after spending a year as Omnicom Media's chief digital officer, according to The Drum. Prior to Omnicom, he was chief digital officer at OMD Group UK.
Wright has also held senior roles at BskyB, heading up business development and sales within different divisions. He also served on the Advisory Board for Mobile Interactive Group from February 2010 to August 2011.
Wright will take over part of the operations of an Apple initiative that has underperformed to date. Launched in 2010, iAd was Apple's attempt to cash in on the mobile advertising possibilities presented by the company's steadily-growing iOS platform. The company's hope was to encourage the development of rich content ads that didn't remove users from the apps displaying them.
Apple, for iAd's debut, lined up a number of high profile advertisers, building a series of campaigns with them for a minimum budget of $1 million each.
Within a year, though, the platform appeared to be faltering. The company soon halved its minimum buy, setting a base campaign cost of $500,000 to attract smaller advertisers. Five months later, that cost dropped even further, with minimum ad buys beginning at $300,000.
Currently, minimum ad buys on the platform are as low as $100,000. Apple also boosted developers' share of iAd revenue from 60 percent to 70 percent in April.
Apple's moves have been aimed at making its platform more attractive to both advertisers and developers. Reportedly, agencies and advertisers have been pleased with the possibilities of iAd, even as some have complained that Apple exerts too much control over the process. Advertisers are also eager to get their ads in front of the eyes of Apple device users, who have already usually paid a premium price for their smartphones and tablets.
A notable obstacle, though, is the exclusivity of Apple's iAd program. Whereas competing mobile ad platforms — AdMob, InMobi, Advertising.com, etc. — work across Android, iOS, and more, iAd is iOS-exclusive.