Apple reports 80,000 new U.S. jobs created by iOS App Economy within 2012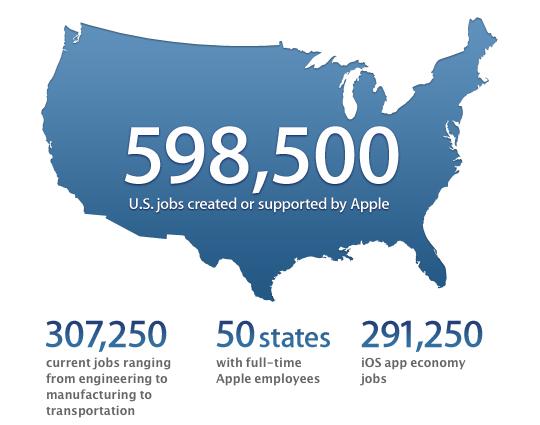 Incredible growth in Apple's iOS App Store has doubled its payouts to developers (now totaling over $8 billion) and sparked the creation of over 80,000 new jobs directly related to building software for Apple's mobile platform within the last year.
Apple first highlighted the economic impact of its iOS platform one year ago, citing figures that noted the creation and support of 514,000 jobs.
Of those, 210,000 were directly attributed to the "iOS App Economy" among developers who were building apps specifically for iPhone and iPad.
The remaining 304,000 included Apple's own workforce of 47,000, as well as its American component suppliers in engineering, manufacturing and transportation jobs including those put to work shipping the company's products around the country.
One year later, Apple's total jobs creation figure has grown to 598,500. Of those, Apple itself reported having hired 3,250 new employees within the U.S.
Conservatively, the company hasn't claimed any growth among its component suppliers or in transportation. That leaves the balance of new jobs attributed to the iOS App Economy: 81,250.
Apple plays defense with job creation offense
Apple began drawing attention to the new jobs induced through its App Store market after a series of high profile attacks began blaming the company for establishing manufacturing in China next to every other U.S. tech giant.
A snowballing series of reports began blaming Apple over allegations of poor working conditions and worker suicides at its suppliers, attributing blame on the company even for suicides that occured on the manufacturing lines of other companies.
At the same time, those reports, including a notoriously condemnatory "iEconomy" series published by the New York Times lambasted the company for not creating tedious manufacturing jobs in the U.S., where suicide rates are already higher than those among Chinese workers.
After Apple directed attention to the jobs the iOS App Store has already created in the U.S. among American suppliers and its third party developers, the New York Times printed a dreary portrayal of one couple that quit their jobs and cashed in their retirement savings, only to fail to get rich writing iOS apps.
What sort of new jobs?
The "App Economy" jobs Apple says iOS is creating aren't equivalent to the company's own hirings, most of which are full time, well-paying jobs with strong benefits packages, even among its retail workers.
At the same time, Apple also isn't simply counting individuals who have signed up to create a developer account that allows them to post software to the App Store.
The new jobs range from full time professionals employed by third party development firms to part time hobbyists and everything in between, making the App Store more of an entrepreneurial opportunity generator than a government-style work program.
A survey of 252 independent iOS developers by Streaming Color Studios found that a quarter of them reported making essentially nothing, while another quarter reported earning more than $30,000.
The remaining half were somewhere in between, while a small number, 4 percent (about ten people in the survey), had earned over $1 million from their App Store efforts.