With reservations still pending, Mailbox app gets updated with smarter snoozes and UI tweaks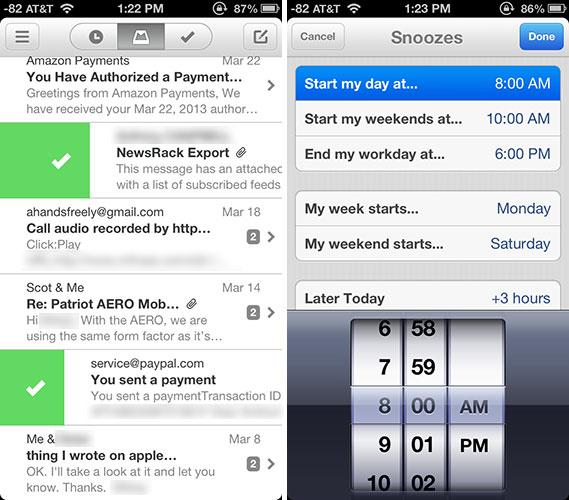 Popular Gmail iOS client Mailbox reached version 1.2 on Monday, bringing enhanced features like smarter snooze settings and swipe gestures to those lucky enough to have had their account activated.
The latest update to Mailbox is one of the most substantial since the app launched in February, and builds on the title's main feature of "snoozing" emails for later perusal. Mailbox v1.2 comes less than one month after version 1.1 added "shake to undo" functionality in March.
AppleInsider was able to take a look at the app and found it to be a unique and effective system of organizing stacks of emails that may otherwise go unread. Monday's update brings the idea of snoozing emails further by refining the notification structure to include "week starts on..." and "weekend starts on..." options to the alert menu.
The user interface also received some polish, as swipe gestures now support multitouch, meaning more items can be selected for snoozes at one time, while a double-tap brings up a contact's email address from within a message.
smarter snoozes (adjust based on time of day and week)
faster swipes (swipe as many items at one time as you want)
UI improvements (e.g. double-tap a name bubble to see email address)
bug fixes (including swipe-to-open bug) and performance improvements
Since its debut, Mailbox has filled over 1 million reservations and was recently acquired by cloud storage giant Dropbox in March for between $50 and $100 million.
Mailbox is a 9.2MB free download from the App Store, though with demand still high, the company is currently filling reservations on a first come, first serve basis.