Microsoft to unveil Xbox successor on May 21 as Amazon mulls set-top box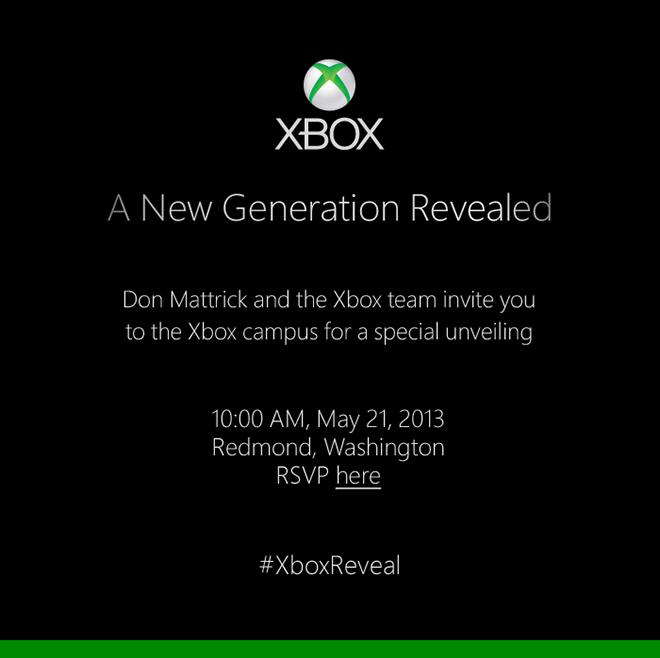 The set-top box segment occupied by Apple TV and others may get a lot more crowded in the coming weeks, as Microsoft has announced a date for the unveiling of its next generation Xbox console, while Amazon is rumored to be pondering a step into the TV arena as well.
Wednesday brought a notice from Microsoft inviting media outlets to a May 21 event on the Xbox campus. The invitation touts "a new generation revealed," and says the event will include a special unveiling.
As Sony did with its PlayStation 4, Microsoft is taking the wraps off of its next-generation console in a special event rather than waiting until this year's Electronic Entertainment Expo (E3) in Los Angeles. A blog post from Microsoft spokesman Larry "Major Nelson" Hryb, though, notes that Microsoft will "continue the conversation and showcase our full lineup of blockbuster games" at E3.
The rumor machine has been in full swing regarding the capabilities of the successor to the Xbox 360. Prior leaks have pointed to eye-tracking technology, as well as deep integration with a user's television set. Microsoft is thought to be positioning the device as a living room hub, tying together a user's television, gaming, Internet, and mobile experiences.
Meanwhile, Internet retail giant Amazon is also said to be plotting a foray into the set-top box segment. Amazon's alleged internet-connected device would connect to televisions, providing users with access to Amazon's video services, sources familiar with the device told Bloomberg.
The box is said to be being developed by Amazon's Lab126 division. The Cupertino-based Lab126 has been working on connected television devices for some time, sources say.
The move would bring Amazon into competition with Microsoft's planned gaming console, but also with Apple's Apple TV. Now described by Apple execs as a "beloved hobby," the Apple TV has for years been the company's foothold in the living room. Apple is widely thought to be working on either an update to the Apple TV that would see it gain enhanced capabilities, or a completely new standalone television.
AppleInsider has affiliate partnerships and may earn commission on products purchased through affiliate links. These partnerships do not influence our editorial content.