Intel outlines upcoming Core i7 'Haswell' integrated graphics, touts up to triple performance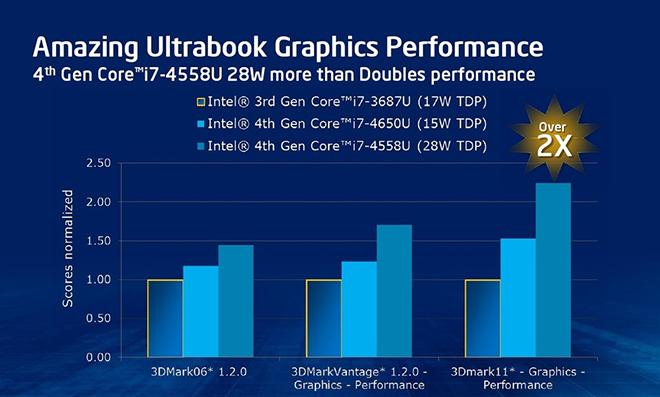 A document released on Wednesday sheds some light on Intel's forthcoming Core i7 processors, which will boast new integrated graphics silicon that promises to double or even triple performance compared to existing models.
Alongside a new iteration of the "Intel HD Graphics" series, dubbed HD 5000, Intel is introducing the "Iris" and "Iris Pro" tiers to its graphics lineup with Haswell, effectively creating a three-tier system for its upcoming Core i7 offerings. Apple is expected to use products from the newest family of processors when the company refreshes its Mac lineup later this year.
As is the case with every new generation of CPUs, there will be an across the board performance boost with the fourth-generation Core i7 chips. However, while previous generational changes brought only slight gains to Intel's respective Ultrabook, laptop and desktop class lineups, Iris and Iris Pro will enjoy huge gains, in some cases showing three fold improvements.
As noted by Engadget, the options start out with HD 5000 for 15W TDP (Thermal Design Power) U-series chips, and move to the new Iris graphics with 28W U-series silicon. Iris Pro, which uses embedded DRAM instead of shared system memory, promises to double the speed of current 47-55W H-series laptop processors. Most intriguing is a tripling in 3D rendering speeds for 65-84W R-series desktop CPUs.
According to Intel's documentation, Iris Pro will also be available on certain M-series laptop and K-series desktop chips.
The 11- and 13-inch MacBook Air currently uses two U-series chips — a 17W dual-core Ivy Bridge Core i5 processor in its standard configuration and an optional Core i7 version. Apple uses M-series Core i5 and i7 chips for its MacBook Pro and MacBook Pro with Retina Display products.
Intel also detailed the three tiers' feature sets, which support DirectX 11.1, OpenGL 4 and OpenCL 1.2. Display modes include "enhanced" 4K and 2K output and a 3-screen collage, which looks to eschew the need for a discrete graphics card for multi-panel setups.