Apple leapfrogs titans of industry to land No. 6 spot on Fortune 500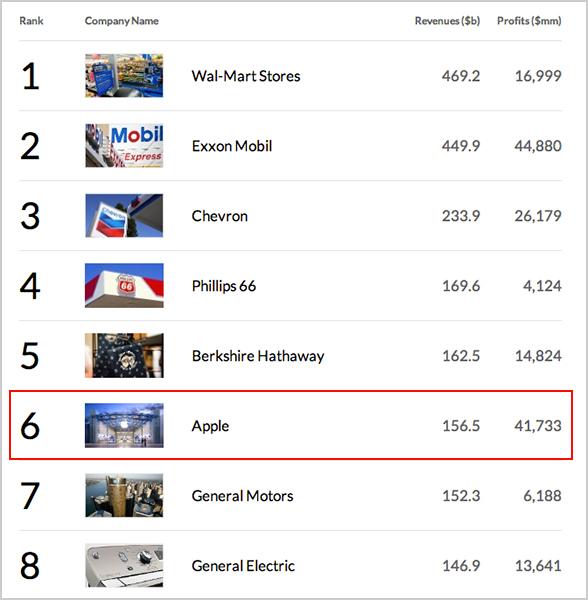 Fortune magazine on Monday released its annual Fortune 500 list of America's top companies, as ranked by revenue, with Apple jumping 11 places from last year to pass giants in the automotive, healthcare and banking industries.
As reported by Fortune's Philip Elmer-DeWitt, Apple's revenue during the last fiscal year was good enough to best heavyweights in a number of strong U.S. industries traditionally at the top of the list, granting the Cupertino company entry into the exclusive top-ten club for the first time ever.
Moving from 17th place to 6th, Apple streaked past J.P. Morgan, Bank of America, General Electric, Ford, General Motors, AT&T, Verizon, Hewlett-Packard, Fannie Mae and Valero. Apple is now the highest ranked tech company on the 500, with second place HP slipping down to the No. 15 spot.
Fortune's blurb about Apple:
Apple is bigger than ever — the company cracked the Fortune 10 this year. But it's a high-pressure job, being king of the hill. At Apple's press event this past October, it maintained more than disrupted with its software upgrades and iPad mini announcement. Also, CEO Tim Cook had to apologize a lot in the past year — once in September for the failure of Apple's maps app, and then to Chinese consumers this April for slow repair services — this in a market that Cook said this past January would be Apple's largest. Still, when every executive wants to invent the iPod of ___, Apple remains an innovation icon.
In order to take the top position, currently held by Wal-Mart, Apple would have to triple its yearly revenue which stood at $156.5 billion last year. The company posted profits of $41.7 billion, however, a massive number bested only by Exxon Mobil's $44.9 billion. Of the top five firms, three were petrochemical companies.
Elmer-DeWitt notes that the rankings reflect Apple's booming fiscal 2012, at the end of which AAPL stock prices dropped precipitously. During Apple's quarterly conference call for the second quarter of 2013, the company announced reduced margins led to its first year-over-year decline in profits in a decade, but still managed to beat Wall Street estimates on revenues of $43.6 billion.