First look: Pixelmator 2.2 Blueberry goes live in the Mac App Store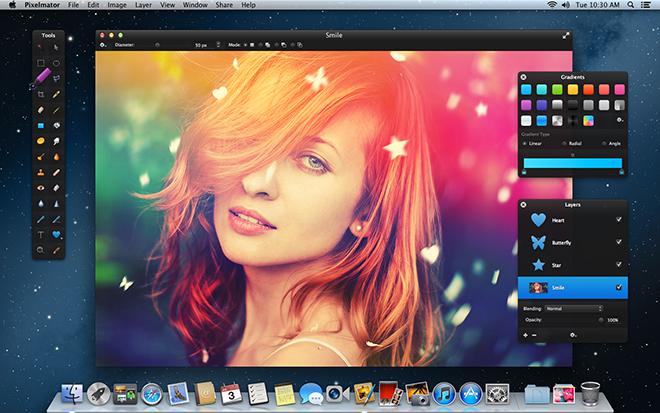 AppleInsider is supported by its audience and may earn commission as an Amazon Associate and affiliate partner on qualifying purchases. These affiliate partnerships do not influence our editorial content.
As promised, image editor Pixelmator released a substantial update to its OS X app on Thursday, with over 100 new features and improvements including shapes, smart move, paint selection and an "effect" called Light Leak.
Now available through the Mac App Store, version 2.2 Blueberry brings a host of new features that make editing photos a more enjoyable experience.
AppleInsider was granted access to the latest update, and found the image editor to be polished and easy to use "out of the box." Not much has changed with the user interface, but that's for the best as Pixelmator offers a clean, spartan look that lets users concentrate on the image rather than the tools surrounding it.
The tool panels that are shown retain the slick interactive animations when rolling over each feature. Drag and drop functionality is still one of the highlights of the app, with effects like the new Light Leak applied by either clicking on its icon or dragging it over to the image.
One of the more useful additions to Pixelmator is the new Vectormator mode, which quickly pops a user into a vector-based environment well-suited for drawing. Upon entering the mode, shapes and gradients windows appear to give fast access to commonly used assets.
Shapes gets a buffed set of features with the update, including new gradient fill, stroke styles and shadowing options. In use, the tool works as expected, though we'd like to see slider controls for offset blur and opacity. Along with new Shapes customization options, the tool is incredibly robust.
Another new feature is the text as shape tool, which turns any typed text into a adjustable layer. The tool allows for reshaping of each letter, and users can apply separate layer filters as needed, allowing for the seamless insertion of text art into an image.
There is only one major gripe we have with Pixelmator, and that is the lack of global non-destructive editing. There are ways to get back to an original image state, but without the granularity of non-destructive editing, especially as it pertains to layers, the app feels somewhat constrictive.
All told, though, the new features simply add to an already great app. With a deep set of tools and customization options, Pixelmator is well worth the price of entry.
Smart Shapes Tools, which let you quickly adjust a shape's outline with easy-to-use controls to get just the look you're after;
Shapes palette packed with dozens of readily available shapes that are as easy to add as dragging and dropping;
Shape Style palette, so you can effortlessly create more polished and advanced shapes;
Convert Text into Shape, which allows you to convert type layers to shape layers and then easily apply gradients, shadows, strokes, or even reshape individual letters;
Smart Move Tool, which knows when you are working with image or shape layers and gives you just the options you need at that time;
Paint Selection Tool, which is the simplest and the fastest way to make even the most challenging selections in your images with just a few brush strokes; and
Light Leak effect, which makes it easy and fun to create stunning, retro-artistically illuminated images from any of your photos.
Pixelmator version 2.2 is available now at a promotional price of $14.99 through the Mac App Store, while existing users can update for free.