T-Mobile to tout '$0 Down' iPhone 5 trade-in deal for Mother's Day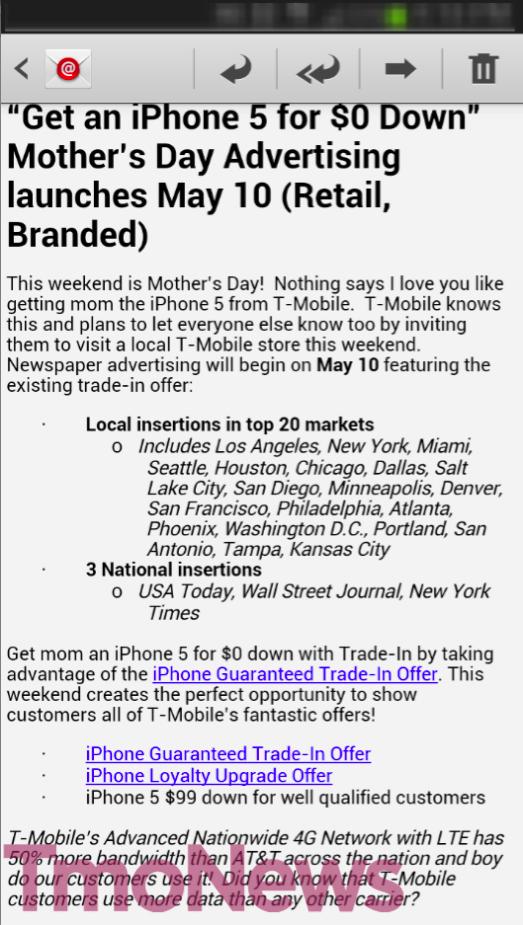 T-Mobile is continuing to tout the recent arrival of Apple's iPhone on its network, and this weekend will see the "UNcarrier" offering the iPhone 5 for no money down with a valid trade-in.
The iPhone 5 will feature heavily in T-Mobile's Mother's Day weekend advertising, according to TmoNews. The carrier will highlight Apple's newest smartphone to push the trade-in program that it's had running since April 12. That program allows new and existing qualified customers to trade in an iPhone 4 or iPhone 4S, with the resulting trade-in value wiping out the purchase price for the iPhone 5.
The deal — good for both GSM and CDMA iPhone 4 and iPhone 4S units — requires that the device be able to power on, have no cracks in its screen, and bear no liquid damage or other physical damage.
T-Mobile will be running iPhone 5-specific advertising in newspapers across the United States beginning May 10. This campaign will include ad insertions in local papers in the top 20 U.S. markets, including Los Angeles, Miami, New York, Philadelphia, Denver, and Houston. The carrier will also run ads in USA Today, The Wall Street Journal, and The New York Times.