US Air Force expects to save $50M with use of 18K Apple iPads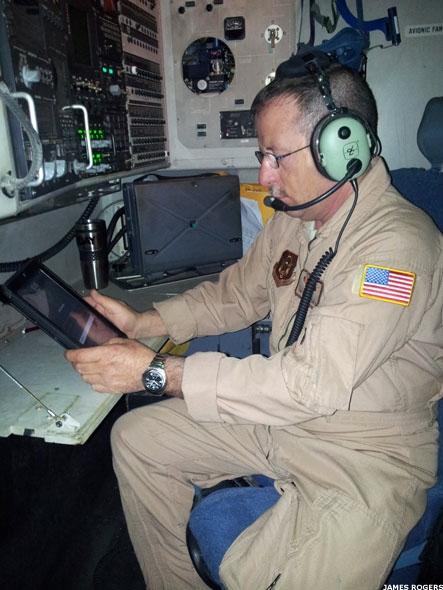 The purchase of 18,000 iPads for use as electronic flight bags has set the stage for the U.S. Air Force to save more than $50 million over the next 10 years.
Apple iPad in use by the Air Force Air Mobility Command. Photo credit: James Rogers of The Street.
Using lightweight iPads instead of heavy paper flight manuals will amount to $750,000 annual savings on fuel alone, a spokesman for the Air Force's Air Mobility Command said in an interview with James Rogers of The Street. And the AMC will no longer have to print those flight manuals either, which will save a whopping $5 million per year.
Major Brian Moritz, manager of the AMC's electronic flight bag program, said the Air Force expects Apple's iPad to help save $5.7 million per year, which would result in savings "well over $50 million" over the next 10 years.
"We're saving about 90 pounds of paper per aircraft and limiting the need for each crew member to carry a 30 to 40 pound paper file," Moritz said. "It adds up to quite a lot of weight in paper."
Rogers was embedded recently with the U.S. Air Force and got to see Apple's iPad in action. He revealed that the switch from paper manuals to the iPad could cut up to 490 pounds in weight from a C-5 aircraft.
The Air Force spent $9.36 million a year ago on 18,000 iPad units for use in the military arm's cargo aircraft. The 32-gigabyte Wi-Fi-only version of Apple's touchscreen tablet was purchased with bulk discount from Apple, at a price of around $520 per unit.
About 16,000 third-generation iPad with Retina display units are now in use by AMC crew, according to Rogers. The remaining 2,000 units are said to have been deployed across other Air Force units.
The U.S. military joins American Airlines, which last year became the first commercial airliner to receive Federal Aviation Administration approval to use Apple's iPad as an electronic flight bag. That switch is also expected to save American millions of dollars, and could even help prevent back injuries among its pilots.