Yahoo announces 1TB Flickr accounts, new UI with high-resolution photos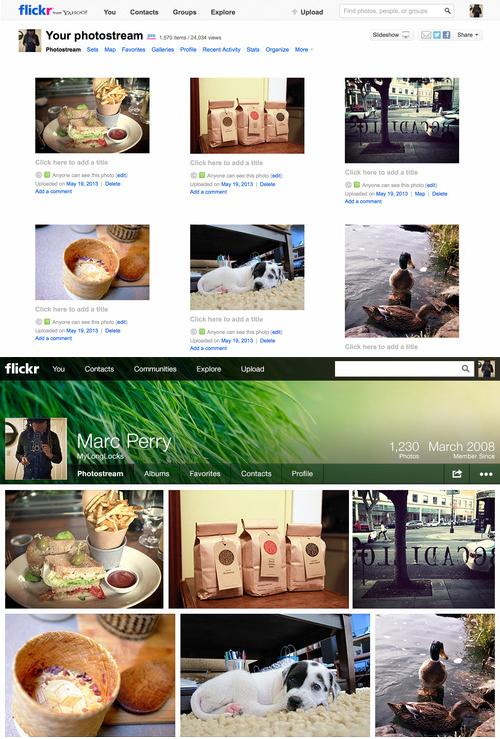 As part of a special media event on Monday, Yahoo CEO Marissa Mayer unveiled major changes to photo management and sharing service Flickr, with full resolution image support, 1 terabyte of storage for each user, and a revamped user interface.
The announcement, nearly overshadowed by news of Yahoo's $1.1 billion Tumblr acquisition, came during a media event in New York that also highlighted the company's move into a historic Times Square building the New York Times called home for some 90 years.
In a subsequent post on Yahoo's official blog, Mayer detailed the revamped Flickr, one the most significant updates the service has undergone since being purchased by the Internet giant in 2005 for $35 million.
Perhaps most prominent of the changes is Flickr's new Web photostream interface, which replaces the copious amounts of whitespace and blue links with "full resolution' images in a tiled layout. On the desktop version, the gallery is endlessly scrollable, while a new slideshow feature allows for full-screen photo viewing.
Mayer also announced a fairly large boost to storage limits, which is now set at 1TB. According to Flickr, the new data cap is enough to hold 537,731 6.5-megapixel photos, or what the average smartphone produces. For the iPhone 5, which takes 8MP shots, the terabyte is good for 436,906 images.
In addition to the refreshed interface and generous storage cap, an Android app was released on Monday, with the title being akin to the iOS version launched in December.
"We hope you'll agree that we have made huge strides to make Flickr awesome again," Mayer said in the post, "and we want to know what you think and how to further improve!"