Apple still by far the world's most valuable brand name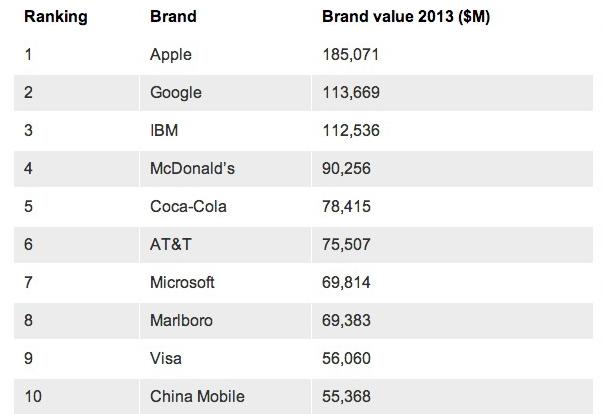 Once again, the strength of Apple's products has led to the Cupertino company being honored as the most valuable brand in the world, topping not only tech rivals like Google and Microsoft, but also giants of industry like McDonald's and Coca-Cola.
Apple overcame continual reports of slipping demand for its products to land again at the top spot in the yearly BrandZ ranking of the world's most valuable corporate brands, according to Market Week. The survey assigned Apple's brand a value of $185.1 billion, more than 60 percent higher than the second place brand, Google's.
IBM, McDonald's, and Coca-Cola rounded out the top five. Microsoft, AT&T, and China Mobile also made the top 10 brands.
Apple is no stranger to the top of the BrandZ list, having grabbed the Brandz crown in both 2011 and in 2012. The company's brand value has increased only by one percent from 2012, but the $71.4 billion separating it from second-place Google is more than the entire brand value of seventh-place Microsoft.
The BrandZ survey attributes Apple's first-place finish to the strength of its brand and the consumer loyalty that that brand inspires.
The BrandZ list isn't the only one to recognize Apple's success. The company also recently took the top spot in the Superbrands business brand survey, as well as the second spot in an accompanying consumer brand survey, behind only Rolex.
In October of last year, brand consultancy firm Interbrand found Apple to have the second-best brand value in the world, behind only Coca-Cola.
In BrandZ's estimation, Apple's brand value has increased by $30 billion since it took the top spot in the rankings in 2011.