AT&T adds emergency alert system to iPhone 5 and 4S with software update [u]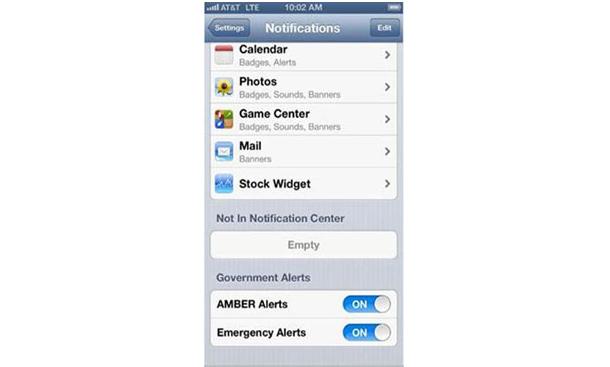 America's second-largest wireless carrier AT&T on Friday announced it will be pushing out an update to subscribers who own an iPhone 5 or 4S, with the new software supporting an FCC-mandated Wireless Emergency Alert system.
Update: Readers are reporting the iPhone 4 is also receiving the OTA update in some areas.
AT&T said it will begin rolling out the software update for Wireless Emergency Alerts (WEA) today, which will allow iPhone 5 and iPhone 4S owners to receive government-issued safety messages in the form of text-like messages.
The U.S. Federal Communications Commission, non-profit trade organization for the wireless industry CTIA, and the Federal Emergency Management Agency have cooperated to create the WEA system. As noted on the CTIA's website, WEA-capable mobile devices began receiving alerts in April 2012.
There are three types of alerts:
Presidential Alerts – Alerts issued by the President or a designee;
Imminent Threat Alerts – Alerts that include severe man-made or natural disasters, such as hurricanes, earthquakes, tornadoes, etc., where an imminent threat to life or property exists; and
AMBER Alerts– Alerts that meet the U.S. Department of Justice's criteria to help law enforcement search for and locate an abducted child.
While the alerts will come to users in something resembling a text message, the system actually uses a different, faster technology. Subscribers won't be charged for incoming alerts.
According to AT&T, iPhones running 6.1 or later will have the update automatically downloaded and installed over the air, while those running an older iOS will have to connect to iTunes.