Analyst recants claim that Apple will add Retina display to iPad mini before 2014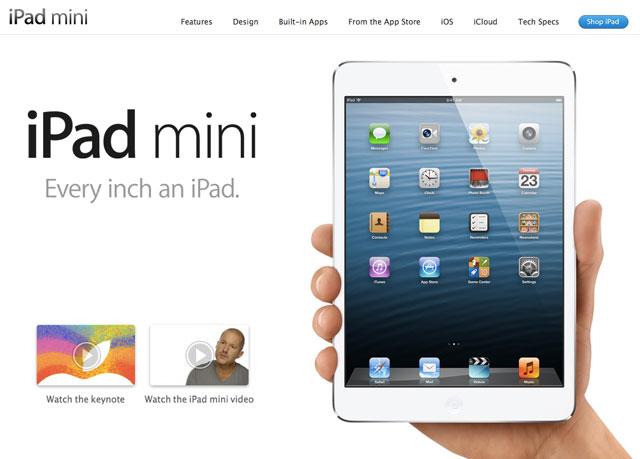 NPD DisplaySearch analyst Richard Shim has reversed his earlier prediction that Apple would add a Retina resolution to its iPad mini at some point before 2014.
Shim first said in May that he expected Apple to release an iPad mini with the same Retina Display resolution as its full sized iPad 4 model this fall, then spoke of the new model coming in the "second half" of 2013, followed by another new iPad mini model in calendar Q1 2014.
However, Shim has now changed his forecast again, stating in a new report that "Apple is expected to refresh its iPad mini in the second half of the year. The new iPad mini will continue to use a 7.9-inch display with a [non-Retina] 1024×768 resolution, but it will use the iOS 7 operating system and an A6 processor, in a slimmer design than the current generation."
Shim also thinks Apple will release a revamped, full size iPad powered by an as yet unannounced "A7" processor, and says "Apple's mix of tablet PC shipments is projected to be 60% iPad mini and 40% iPad in 2013."
OEMs seek to copy iPad mini's success
Including competing tablets, Shim wrote that "tablet PCs with screen sizes smaller than 9 inches are currently forecasted to account for 66% of tablet PC shipments for the year," adding that he expects that figure to increase with a refreshed new iPad mini and other "new 8-inch tablets" in the third quarter from Acer, Asus, Dell and Lenovo.
Shim wrote that iPad-sized tablets "made up over 60% of total tablet PCs shipped in 2012," but he expects this figure to reverse in favor of smaller sized tablets. But rather than following the 7 inch trend established by early Android devices, Shim thinks other makers will follow Apple's lead with a new crop of 8 inch tablets.
"While tablet PCs with 7 inch displays appear to be heading for the low end of the market (less than $200)," he wrote, "Apple's iPad mini with its 7.9-inch display has captured a significant share of the market, despite its starting price of $329. Brands are hoping to expand this 'middle class,' gaining some share and slightly better margins than 7-inch tablet PCs."
Tweener tablets taper off, twice
Nearly three years ago, Apple's Steve Jobs noted that there were only "a handful of credible entrants" among the "avalanche" of Android devices being launched in late 2010 and said that they were forced to used a "tweener" 7 inch form factor to hit low price points in order to compete with the iPad.
He predicted hardware makers would return with larger sizes, which they did the next year alongside the launch of Android 3.0 Honeycomb. After that wave of devices failed, Google launched its Nexus 7 with Asus amid much fanfare, and many pundits predicted Jobs was wrong and that small tablets would eviscerate iPad sales.
When Apple subsequently launched its own iPad mini with a larger 7.8 inch screen, many critics again jumped on Jobs' comments, but were again proven wrong as cheaper 7 inch devices failed to sell in quantities comparable to the iPad mini.
If Shim's outlook for a new wave of 8 inch tablets is correct, it will again fulfill Jobs' prediction that smaller "tweener" tablets, nearly always sold with smartphone-style, widescreen ratio screens, aren't the right size to run satisfying tablet apps.