Samsung shows off range of new Android phones, hedges bets with Windows 8 devices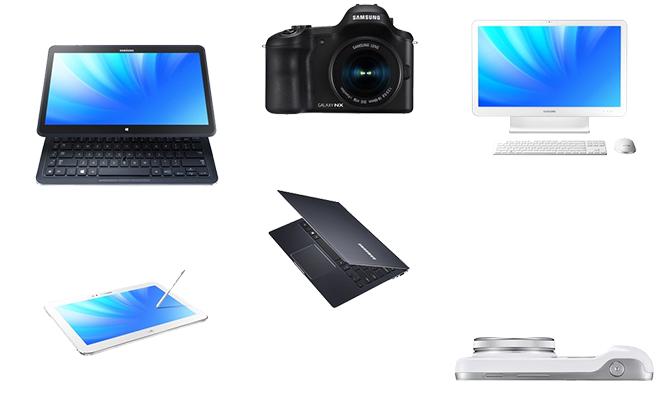 AppleInsider may earn an affiliate commission on purchases made through links on our site.
Samsung on Thursday showed of a range of new devices for both Microsoft's Windows 8 and Google's Android platforms, though the South Korean giant's choices appear to show that it is very much hedging its bets when it comes to Microsoft's newest operating system.
Samsung unveiled a total of nine new devices on Thursday: four in its Android-powered Galaxy line, and five in its Windows 8-powered Ativ line. With the exception of one device, the Galaxy products were all expansions on the company's Galaxy S4 flagship handset. All of the Galaxy devices bore the Galaxy S4 brand, though most had very different specifications from Samsung's recently released "life companion."
The Android devices Samsung introduced on Thursday include the photography-centric Galaxy S4 Zoom, which packs a 10x optical zoom; the Galaxy S4 Active, which is waterproof and dust-proof; and the Galaxy S4 mini, which sports the same design as Samsung's recently revealed flagship handset, but in a smaller package and with scaled-down specs.
Samsung also revealed a new, Android-powered camera with an interchangeable lens. The 4G LTE-capable Galaxy NX runs Android 4.2.2 "Jelly Bean" on a 4.3-inch touchscreen display, and it is the successor to the Galaxy Camera, which the South Korean tech giant introduced just last year. Unlike the Galaxy Camera, though, the Galaxy NX can attach to more than a dozen interchangeable lenses Samsung has already introduced for its NX line of mirrorless cameras.
On the Windows end, Samsung's presentation was geared toward the notebook and tablet segment. Headlining the Windows segment was the Ativ Q, an 8.2mm thick Windows tablet that weighs just 1.2 pounds. That device, which folds open to reveal a slim keyboard, runs both Windows 8 and Android 4.2.2 on an unspecified Haswell processor from Intel.
Also notable about the Ativ Q: its screen resolution. The 13.3-inch convertible device packs a resolution of 3200x1800.
Samsung also showed off an Intel Atom-powered Ativ Tab 3, a 10.1-inch device similar to the company's line of Galaxy Tab devices. Thursday also saw the debut of the Ativ One 5 Style, an all-in-one desktop PC running Windows 8 on a 1920x1080 touchscreen.
Two notebooks rounded out Samsung's presentation, the Ativ Book 9 Plus and the Ativ Book 9 Lite. The Plus features a 13.3-inch 3200x1800 qHD+ multitouch display with an Intel Core i5 or Core i7 Hawell processor, giving it up to 12 hours of battery life. The Lite has the same size display, but it outputs at 1366x768 and features an AMD A6 quad-core chip.
Notably absent from the presentation were any smartphones running Microsoft's Windows Phone 8 OS. Samsung does manufacture devices on Microsoft's phone platform, but the OS's slow rate of adoption was highlighted by the fact that Samsung devoted no time to the OS.
Also absent was Windows RT, the ARM-targeted variant of Windows, which Microsoft unveiled at the same time as Windows 8. Windows RT has struggled even more than Windows 8, though, due to its being comparatively underpowered and somewhat confusing to consumers. Samsung already nixed one device that was supposed to run the platform, and a Samsung rep on stage Thursday made sure to point out that the Windows devices the company was showing off were running the "full Windows, not Windows RT."