Barnes & Noble to exit cutthroat tablet hardware business, let partners build Nooks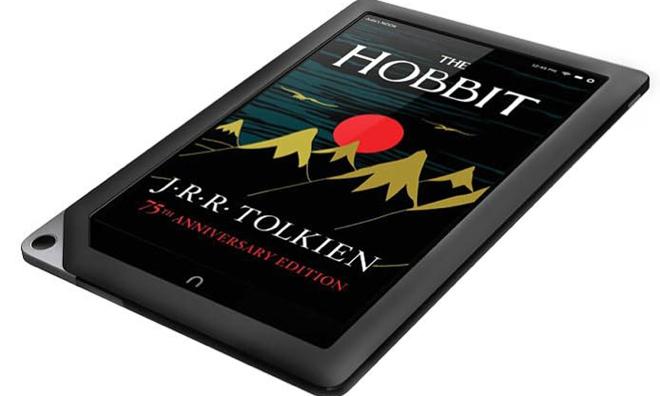 AppleInsider may earn an affiliate commission on purchases made through links on our site.
While Barnes & Noble hoped its custom-built Nook tablet could compete with the likes of Apple's iPad and Amazon's Kindle Fire, continued losses for the bookseller have forced it to exit the hardware manufacturing business, leaving third-party partners to build future Nook devices.
As part of the company's quarterly earnings report on Tuesday, Barnes & Noble revealed that it plans to limit risks associated with manufacturing hardware. While the company will continue designing e-readers, it will transition the manufacturing of that hardware to third-party partners.
Nook revenues were down 34 percent in the company's just-concluded quarter, at just $108 million. For the full fiscal year, Nook revenues were down 16.8 percent.
Barnes & Noble cited lower selling volume of Nook hardware, while content sales were also down in the fourth quarter, as series like "The Hunger Games" and "Fifty Shades of Grey" boosted sales a year ago."We are taking big steps to reduce the losses in the Nook segment" - Barnes & Noble CEO William Lynch
While the bookseller's color touchscreen tablets have struggled against the iPad and Kindle Fire, Barnes & Noble has found success with its black-and-white e-ink reading devices. As such, its Simple Touch and Glowlight products will continue to be developed in-house.
"We are taking big steps to reduce the losses in the Nook segment, as we move to a partner-centric model in tablets and reduce overhead costs," said Barnes & Noble Chief Executive William Lynch. "We plan to continue to innovate in the single purpose black-and-white eReader category, and the underpinning of our strategy remains the same today as it has since we first entered the digital market, which is to offer customers any digital book, magazine or newspaper, on any device."
Barnes & Noble attempted to compete more directly with Apple's iPad and Amazon's Kindle Fire HD when it introduced a 9-inch Nook HD+ last September. That device has a high-resolution display packing in 256 pixels per inch, and launched at $299 for a 16-gigabyte model.
But Barnes & Noble is currently selling the 16-gigabyte Nook HD+ tablet for just $149, as part of a "limited time" offer. The 7-inch entry-level 8-gigabyte Nook HD has also been discounted to $129, down from $199.
HP took a similar approach with the TouchPad in 2011, when the hardware was discontinued and remaining inventory was sold for $99. However, Barnes & Noble said Tuesday it plans to continue offering its Nook HD and Nook HD+ at "amazing prices" through the holidays.
Despite a surge in competition in recent years, Apple's iPad remains the dominant platform in the tablet market. The company is expected to update its iPad and iPad mini with new models later this year.