Apple winding down Mac Pro tower shipments as it works to finish new cylindrical model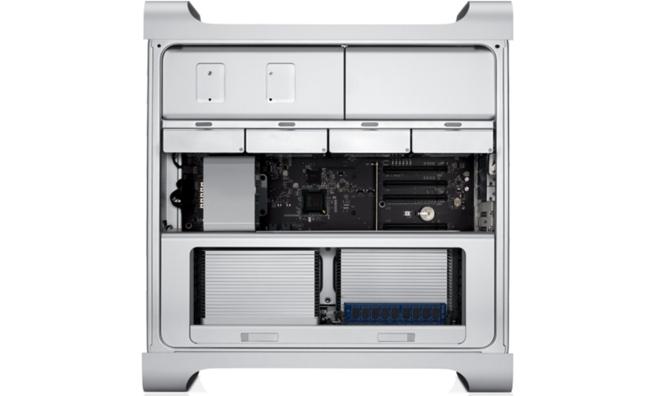 It's the end of the line for the aluminum Mac Pro tower, as Apple appears to now be winding down shipments to resellers in preparation to launch a newly redesigned professional-grade desktop later this year.
As can be seen in the AppleInsider Mac Price Guide, the current-generation Mac Pro with a 3.2-gigahertz processor is out of stock at resellers Amazon, Mac Connection, B&H, and J&R. Additionally, as of Wednesday afternoon, only two units remain in stock at MacMall.
This is the first time the Mac Pro has been spotted sold out at so many authorized resellers, and is likely a sign that Apple is winding down — or has halted — production of the current model.
That comes as no surprise, as Apple uncharacteristically offered a sneak peek for its new cylinder-shaped Mac Pro at its Worldwide Developers Conference earlier this month. Apple usually does not show off a new product until it is ready to ship, or at least has a specific launch window.
However, the company only said that the new Mac Pro would launch sometime in 2013, without committing to a date or timeframe.
When it launches, the newly redesigned Mac Pro will mark the end of an era for Apple's legacy aluminum tower, which has existed since the launch of the Power Mac G5 in June of 2003. That was billed by Apple as the first personal computer to use a 64-bit processor, a PowerPC G5 processor developed by IBM.
The first Power Mac G5 featured dual 2-gigahertz processors, and could support up to 8 gigabytes of RAM. In particular, the aluminum tower was touted by Apple a decade ago for having four distinct thermal zones to keep the system running cool. Each zone was equipped with thermal sensors, allowing them to be cooled independently and quietly.
Apple also boasted about the removable door on the side of the Power Mac G5, which allowed users the ability to quickly access and swap out the hard drive, RAM, graphics cards, and other components.
The desktop was rebranded as the Mac Pro in 2006, when Apple switched from PowerPC to Intel processors while keeping the same enclosure. The first Intel-based tower Mac included two dual-core Intel Xeon 5150 processors clocked at 2.66 gigahertz.
The first Mac Pro system came with a gigabyte of RAM by default and officially supported 16 gigabytes of RAM.
The design of the tower remained largely the same, though Apple added a second optical drive bay, along with a second USB port and FireWire 800 port on the front of the desktop. The system also supported four full-length PCI-Express slots, along with a double-wide graphics slot.
"This is a beautiful enclosure design," Apple marketing chief Phil Schiller said of the Mac Pro during the WWDC keynote in 2006. "Outside it has all of the same benefits as before."
While Apple felt those benefits were enough to carry the current design through a decade, this year the company revealed its designers have been working on a radical new approach for the next Mac Pro. The unique design prompted Schiller to quip at this year's WWDC: "Can't innovate anymore, my ass."
The new desktop will stick with Intel's Xeon family of processors, with configurations going as high as 12 cores. The machine will also have support for third-generation PCI-Express, with bandwidth speeds up to 40 gigabytes per second.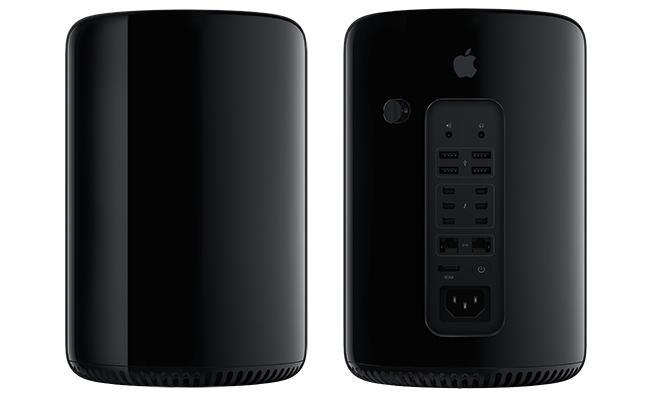 The new Mac Pro will also feature PCIe flash storage, clocked at 1,250 megabytes per second, more than doubling the 500 megabyte-per-second speed of flash drives on SATA connections.
Unlike with the aluminum tower, the Mac Pro redesign is not focused on swapping out components. Instead, Apple will offer expandability through ports, including six high-speed Thunderbolt 2 ports.
In addition, the new Mac Pro will feature four USB 3.0 ports, two gigabit Ethernet ports, HDMI 1.4, and audio input and output. It's advertised to arrive later this year.