JetBlue chooses Apple's iPad for its flight decks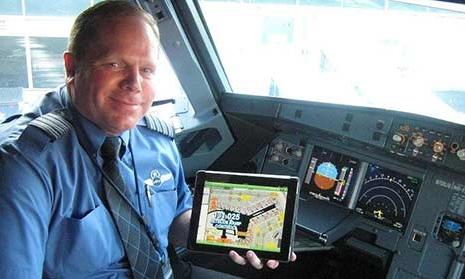 Pilots who fly for JetBlue are being trained to use Apple's iPad in the cockpit for weather, flight planning, and airport charts, the company announced on Wednesday.
On the airline's official blog, JetBlue announced that its pilots will become familiar with three "core" iPad apps that will aid them in flying. The switch will allow pilots to see real-time updates in-flight, giving them the ability to adjust course and provide a smoother flight for passengers.
Pilots will also have access to satellite Wi-Fi enabled by LiveTV, which JetBlue says will be the fastest connection available in the air.
"The iPads will replace laptops and a whole mound of paper manuals and charts," the carrier said. "Less paper means less weight on the plane, and less fuel burned."
The announcement comes just days after rival carrier American Airlines announced it has completed its plan to deploy more than 8,000 iPads across its fleet. The iPad is now in use by pilots as an electronic flight bag in all of American Airlines' fleet.
The iPad is of particular appeal to airlines because its portability allows carriers to replace bulky paper charts. Because of those papers, pilot kitbags can weigh as much as 40 pounds.
The U.S. Federal Aviation Administration first granted approval to the iPad for use as an electronic flight bag in 2011. JetBlue said additional applications for instrument approach and taxiway charts could see FAA approval in the future.