Apple's iPad now in use in all American Airlines cockpits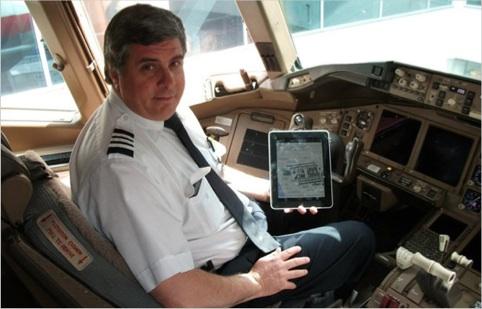 American Airlines announced on Monday that it has deployed more than 8,000 iPads and is now using Apple's touchscreen tablet as an electronic flight bag in the cockpit of its entire fleet of airplanes.
The completion of American Airlines' iPad rollout has allowed the company to discontinue paper revisions to its terminal charts. American Airlines is now the first major commercial airline company to fully utilize tablets in all cockpits during all phases of flight.
In all, more than 8,000 iPads have been issued to active pilots and trainers. That's allowed American to eliminate 24 million pages of paper documents.
American Airlines chose the iPad to serve as its official electronic flight bag for pilots. The switch eliminates the need to carry a 35-pound kitbag from all of the company's planes.
It's projected that the use of the iPad as an electronic flight bag will save American Airlines 400,000 gallons of gas, or $1.2 million worth of fuel, every year. The carrier has also eliminated 24 million pages of paper documents.
"Our electronic flight bag program has a significant positive environmental and cost-savings impact," said David Campbell, vice president of Safety and Operations Performance at American Airlines.
Credit: American Airlines
American Airlines has approval from the Federal Aviation Administration to use the iPad on all of its current fleet types, including the Boeing 777, 767, 757, 737, and MD-80. Pilots utilize the Jeppesen Mobile Terminal Chart application, which has been approved for gate-to-gate use throughout all phases of flight.
"Our focus on technological improvement throughout our operation has never been stronger as we continue to build the new American," said Patrick O'Keeffe, American's Vice President – Airline Operations Technology. "As the first major commercial airline to successfully complete the Electronic Flight Bag transition across its fleet, we are proud to count this among our other successful programs that provide the tools our people need to perform their duties safely and efficiently."
American Airlines first began using Apple's iPad during all phases of flight last year, making it the first carrier with permission to do so. In addition to cost savings and a lessened environmental impact, it is also expected to help prevent back injuries among pilots who will no longer have to carry heavy bags full of paper flight manuals.