Looking to breathe life into Windows, Microsoft shows off 8.1 update with Start Menu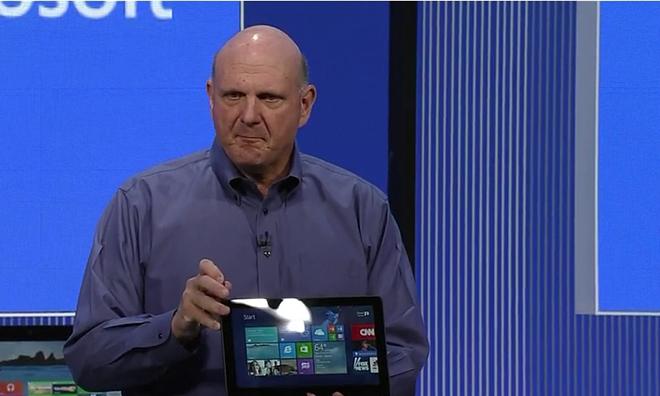 AppleInsider may earn an affiliate commission on purchases made through links on our site.
Microsoft on Wednesday launched its latest effort to reverse the fortunes of its Windows platform, showing off a line of new devices and unveiling Windows 8.1, a new build designed to boost interest in the company's underperforming Windows 8.
At its Build developer conference at San Francisco's Moscone Center, Microsoft looked to woo developers and win over customers who have been reluctant to upgrade to its newest operating system. As the company confirmed in the past, Windows 8.1 will feature the return of the Start Menu, as well as the option to bypass the touch-centric Modern UI and boot directly to the desktop.
The changes represent possibly the biggest about-face in the history of the software giant, which rolled out Windows 8 last year with the intention of reversing a trend that has seen consumers increasingly opting for smartphones and tablets while the PC market struggles. The pivot back toward Windows standards like boot-to-desktop and the Start Menu has been described by some observers as the biggest reversal since New Coke.
The Build conference came just eight months after the company's last developer conference, and Microsoft CEO Steve Ballmer pointed to a new "rapid pace of innovation" at the firm as the reason.
"It's about the transformation that we are going through as a company to move to an absolutely rapid release cycle," Ballmer said in his address to kick off Microsoft's keynote. Microsoft typically iterates Windows every three years or so, but the new version will likely release before Windows 8 is even one year old.
Ballmer in his initial address took the time to show a range of devices running Windows 8.1 and Windows Phone 8 software. Wednesday's presentation, though, focused little on Microsoft's struggling smartphone OS.
Instead, Ballmer simply mentioned and showed off several new handsets — including Nokia's Lumia 925 and several low-cost handsets — before moving on to Windows 8.1. The largest news on Microsoft's smartphone front, perhaps, was the arrival of Windows Phone 8 handsets from Nokia and Samsung on Sprint, the United States' third-largest wireless carrier.
Ballmer attempted to put a positive spin on one of Windows 8's largest problems, the dearth of apps specifically designed for the platform. Windows 8 runs legacy Windows apps in a desktop environment but, due to low overall adoption rates for Windows 8 and Windows RT, developers have been reluctant to devote the resources to developing apps that run in the new tile-centric user interface.
"Within this month," Ballmer said, "I think we'll pass the 100,000 application mark in the Windows Store."
While 100,000 apps would represent a milestone for the platform, Ballmer's statement is a tacit admission of Windows 8's struggles. Launching Windows 8 last year, the company predicted there would be 100,000 apps in the Windows Store by February, with some 400 million Windows 8 devices sold by July of this year.
Over the course of the presentation, Ballmer and other Microsoft representatives showed off a range of form factors running the newest version of Windows, including iPad mini-sized tablets, touch-enabled all-in-one desktops, and convertible hybrids with detachable keyboard docks.
Windows Vice President Antoine Leblond took the time to specifically call out Apple in showing off a new Samsung Ultrabook, noting the device's high pixel density display.
"It blows away a MacBook Retina," Leblond said, holding up the Samsung device, which has a higher resolution screen than Apple's Retina MacBook Pros, as well as battery life comparable to the new MacBook Airs, "and it has a touchscreen."
Aside from the return of the Start Menu and the boot-to-desktop option, Microsoft showed off a number of tweaks and additions to its operating system. The Windows team has worked to improve touchscreen text entry on their devices, showing off a gesture based auto-suggest interaction feature, allowing users to swipe along the keyboard in order to select a suggested word.
Microsoft also showed off increased Bing integration, saying that the search engine has consistently grown market share in the United States since its introduction. Bing powers the full search experience throughout Windows 8.1, with features built in to show not only links to content, but also different ways to interact with that content.
The latter portion of the presentation was devoted to showing off Microsoft's vision for its Xbox One console. The company demonstrated a number of game-creating utilities that interface with Windows 8 and Microsoft's Smart Glass app in order to let players build their own game worlds and experiences.
The presentation ended with a summation of what the company is trying to accomplish across the multiple devices it supports and services it provides. "One experience, on every device for everything important in life," was the motto projected on stage, and Ballmer ended on an optimistic note to drive home that point for developers.
The Microsoft chief predicted that the company would sell "literally hundreds of millions of Windows devices this year."