Pebble smart watch preorders hit 275,000 ahead of Best Buy debut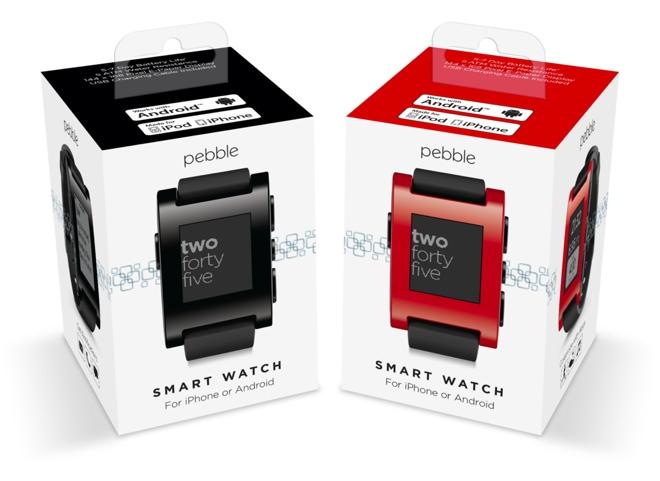 AppleInsider is supported by its audience and may earn commission as an Amazon Associate and affiliate partner on qualifying purchases. These affiliate partnerships do not influence our editorial content.
After 85,000 customers backed the Pebble Kickstarter campaign, the smart watch went on to sell another 190,000 preorders through the product's website.
The announcement made by Pebble on Thursday marks the first time that sales figures for the smartphone accessory have been revealed. The figures also do not include Pebble's debut last week at Best Buy, when it sold out quickly on the company's website and at many retail locations.
"This is great news for users and developers," Pebble Chief Executive Eric Migicovsky wrote. "More Pebbles = more of a market and demand for Pebble watchapps. With the goal of getting Pebble onto as many wrists as possible, our manufacturing team is constantly working to improve quality and increase capacity. Every day thousands of new Pebbles are rolling off the line."
The company did not reveal just how many Pebbles it has actually shipped to customers thus far. The sales figures only encompass total preorders of the device, many of which have yet to be sent to buyers.
On the software front, users have now downloaded more than 1 million watch apps for the Pebble. The company has promised to flesh out its software development kit and expose more features and application programming interfaces for third-party developers.
Pebble has also promised that support for Gmail and IMAP e-mail notifications will be coming to the wrist-worn device with an update to its iOS application in the next two to three weeks.
The Pebble has an e-paper display that allows wearers to quickly glance information on their wrist. When paired with a smartphone, like Apple's iPhone, via bluetooth, users can view text messages, phone calls, and even fitness data through RunKeeper.
After its hugely successful crowd funding campaign on Kickstarter, Pebble helped to bring intense interest to the wearable computing market. Apple is rumored to be working on its own smart watch accessory with biometric feedback, and the company has been filing trademark applications for the name "iWatch" across the globe.