iPhone 5 accounts for half of Apple's smartphone sales, iPhone 4S takes 30%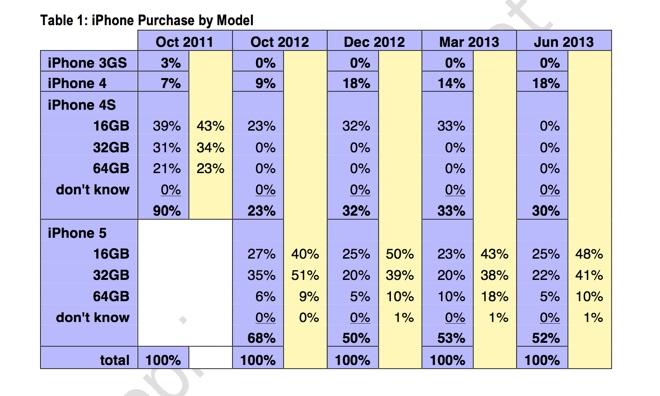 More than half of all smartphones sold by Apple in June were the latest-generation iPhone 5, according to new data, while the iPhone 4S, first released in 2011, accounted for 30 percent of sales.
With the iPhone 5 taking 52 percent and the iPhone 4S earning 30 percent of sales, the remaining 18 percent were iPhone 4 sales, according to data released on Monday by Consumer Intelligence Research Partners to AppleInsider.
The data shows how the average selling price of the iPhone has steadily declined, as customers have increasingly turned to the legacy iPhone 4S and iPhone 4. When the iPhone 5 first launched, early adopters helped push it to 68 percent of all iPhone sales in October 2012, but its share quickly eased to 50 percent by December.
"iPhone 5 appears to have settled in at about half of all iPhone sales, nine months after its initial launch," CIRP said. "In contrast, the earlier flagship model, iPhone 4S, accounted for almost three-quarters of iPhone sales almost a year after its launch. Furthermore, iPhone 4S had 90 percent of all iPhone sales in the period immediately after launch , compared to about 70 percent for iPhone 5."
The data is yet another example of how the average selling price of the iPhone has declined as the smartphone market matures. Some market watchers expect that future growth in the smartphone space will come largely from low- and mid-tier handsets.
That's helped to fuel speculation that Apple will launch a new mid-tier iPhone this year that would allow the company to expand its addressable market. There have also been leaked renderings, 3D mockups, and even alleged parts of the anticipated "iPhone Lite."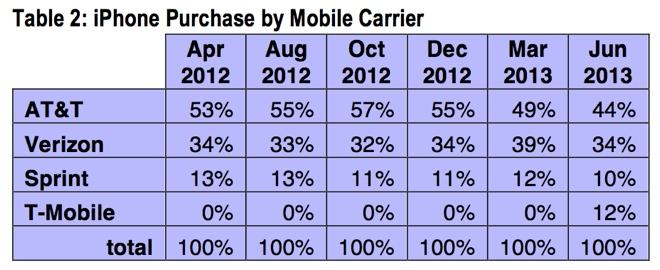 Another element of growth for Apple has been carrier expansion, and the data released Monday by CIRP found that Apple's latest carrier partner in the U.S., T-Mobile, accounted for 12 percent of American sales. That meant T-Mobile exceeded Sprint, even though Sprint has a larger install base.
T-Mobile's strong start took share from AT&T, which dropped from 49 percent of sales to 44 percent, as well as Verizon, which fell from 39 percent to 34 percent. As the fourth-largest carrier in the U.S., T-Mobile has more aggressive pricing than its competitors and attracts budget-minded consumers, which could make it a key player if Apple were to release an "iPhone Lite."
Finally, CIRP's data found that more than half of iPhone buyers in June were upgrading from a competing platform or were buying their first smartphone. While 24 percent were switching from standard mobile phones, 26 percent jumped from Google's Android platform, and 7 percent came from BlackBerry. Among existing iPhone users, most — 18 percent — were upgrading from the iPhone 4, while 13 percent came from the iPhone 4S.