Leaked schematics reveal what case makers expect Apple's low-cost iPhone & 'iPhone 5S' will look like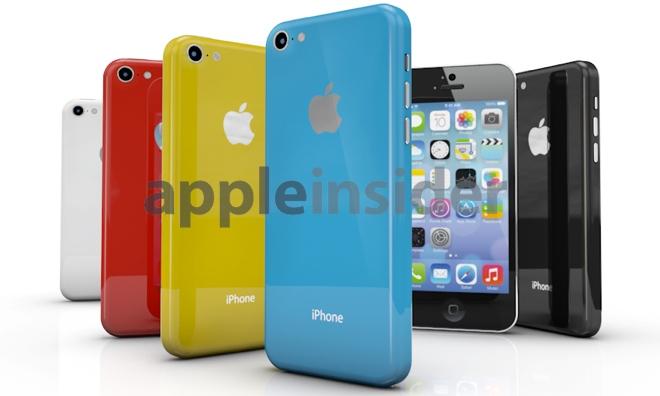 AppleInsider is supported by its audience and may earn commission as an Amazon Associate and affiliate partner on qualifying purchases. These affiliate partnerships do not influence our editorial content.
Using design plans believed to have originated at Apple, accessory makers are beginning to manufacture cases for the company's anticipated low-cost iPhone, and AppleInsider offers a first look at the schematics they are using to predict the device's appearance.
The above 3D rendering was created by a well-known third-party case manufacturer based on blueprints it received that are alleged to reveal the design of a so-called "iPhone Lite." The design shows curved edges and a slightly thicker frame, consistent with other rumors and leaks that have come before.
People familiar with the accessories industry say they believe strongly that the design documents are legitimate and represent what Apple's low-cost iPhone will look like.
To that end, case makers are already manufacturing accessories that they believe will fit Apple's rumored "iPhone Lite." As can be seen in the diagrams included below, the handset is expected to resemble the iPhone 5, with the same 4-inch screen, home button, and FaceTime camera on the front of the device.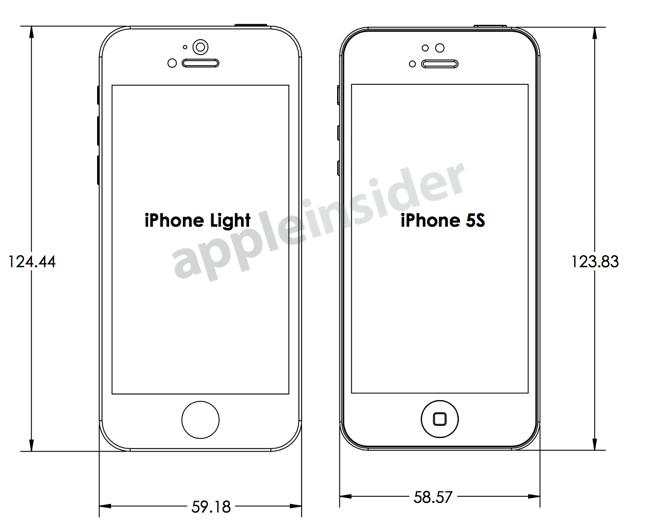 The alleged blueprints also suggest Apple's next flagship handset, referred to unofficially as the "iPhone 5S," will have relatively the same design as its predecessor. Meanwhile, the schematics show a low-cost iPhone that would be a hair wider and taller than the "iPhone 5S."
As for the thickness, the documents suggest that the low-cost iPhone will be about 0.8 millimeters thicker than the next flagship iPhone. Its back edges would also be rounded off, much like Apple's iPod classic.

Aside from those design tweaks, the "iPhone Lite" is shown to have the same general design as previous iPhone models. On the bottom is space for the headphone jack, microphone input, Lightning connector, and speaker output. Up top is a lock button, while volume controls would be on the left side.
The back of the "iPhone Lite" is also shown to have an iSight camera, rear-facing microphone, and LED flash. The low-end iPhone is shown having a singular LED flash, while the "iPhone 5S" features a pill-shaped design that earlier rumors have claimed will house a dual LED flash for greater brightness.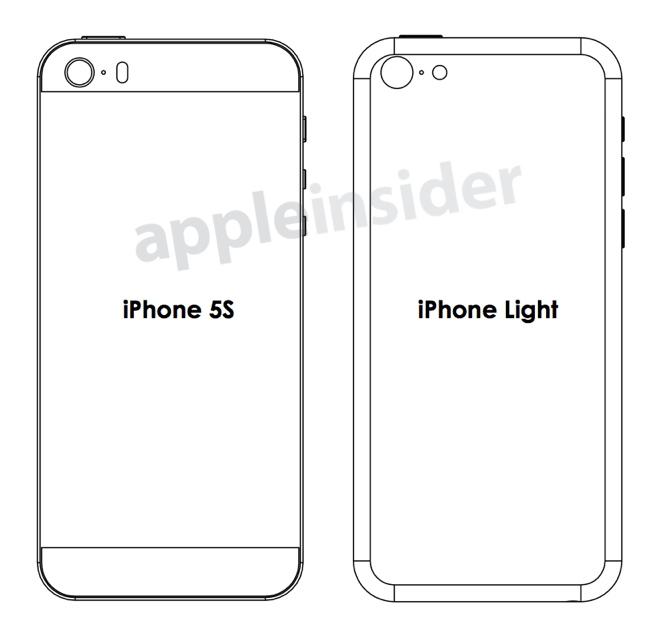 It should be noted that case makers have bet — and lost — on unofficial schematic designs in the past. In 2011, for example, Hard Candy ordered $50,000 worth of steel moldings based on leaked 3D models of a tear-drop iPhone design that never came to be.
However, the "iPhone Lite" design details provided to AppleInsider are consistent with other leaks related to the rumored device.
While the documents obtained by case makers suggest the size and shape of a low-cost iPhone, they give no indications about other features of the device. For example, it's been said that the handset will be made of plastic and will come in multiple colors, but the documents offer no information that would either support or contradict those rumors.