Rumor: Video shows partially assembled next-gen iPad with translucent Apple logo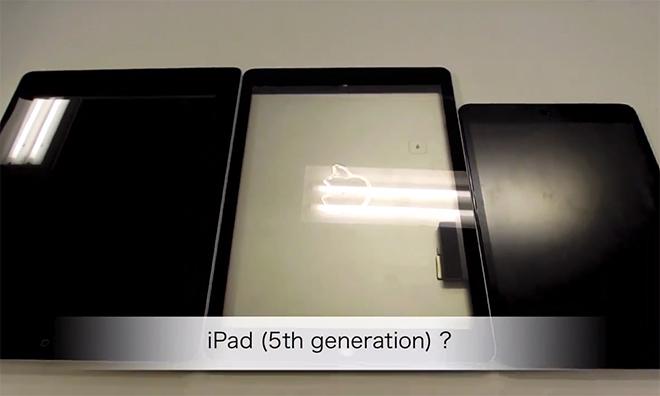 A video posted to the Web early Saturday allegedly shows a partially assembled next-generation iPad, with a redesigned rear shell attached to a front cover panel boasting bezels substantially thinner than current models of Apple's tablet.
The short clip was uploaded to Japanese Apple blog Mac Otakara's YouTube channel (via nowhereelse.fr.), though it is unclear where the publication obtained the footage. As such, the authenticity of the content cannot be verified and is offered for purposes of discussion.
As seen above, the 30-second video appears to show a partially assembled 9.7-inch iPad with design cues taken from the existing iPad mini, including rounded corners, thinner bezels and a rear-facing microphone. For reference, the purported next-gen tablet is sitting between current-generation models of the iPad and iPad mini.
Noticeably absent are the tablet's internals, including basic circuitry like a home button. However, because the assembly is missing a display, the black front panel stands out in sharp relief against the assumedly aluminum rear shell, granting a look at how thin the side bezels are compared to a current iPad.
Also seen through the front glass is the Apple logo, which is revealed to be a translucent white color when viewed from the back, much like Apple's MacBook lineup. By contrast, current iPads feature an opaque black plastic insert that acts as a window for radio signals.
While unlikely, the design could allow for an illuminated logo lit by the LCD panel's LED backlighting system. Such a feature would be difficult to implement, however, as adhesive is used to secure the tablet's large battery pack to the interior shell wall, a design that covers the Apple logo in both the fourth-generation iPad and iPad mini. In theory, a light pipe or some other mode of light transport could supply adequate illumination, but the added build and parts costs may be prohibitive.
Although not much can be gleaned from the short clip in the way of new information, it does offer one of the first looks at what Apple's rumored fifth-generation iPad may look like.
Apple is widely expected to launch a refreshed full-size iPad later this year, with rumors pointing to a revamped design more in line with the iPad mini's slim, curved body.
As an anticipated fall debut quickly approaches, the number of parts "leaks" is quickly growing. Most recently, a photo released on Thursday showcased a rear case similar to the component in Friday's video. That part was said to have a silver Apple logo, but the report failed to show a clear shot of the mark.