Low-cost iPhone predicted to boost both Apple's margins & international sales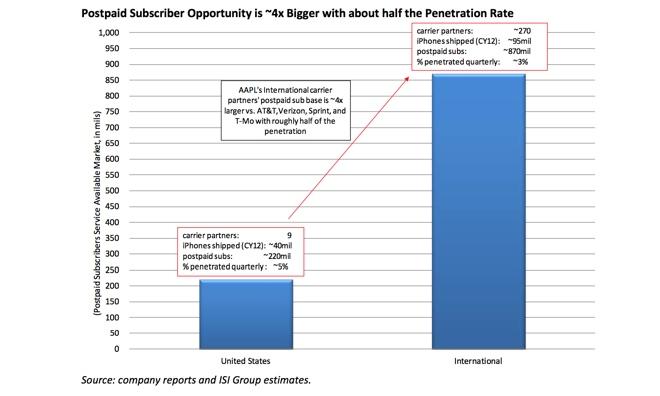 Despite potentially offering a lower entry price, Apple's anticipated low-cost iPhone may actually boost the company's gross margins in the smartphone space while also increasing international market share, a new prediction suggests.
From the June quarter of 2012 until the same period in 2013, Apple's gross margins declined from 42.8 percent to 36.9 percent. Analyst Brian Marshall of ISI Group believes this was largely caused by Apple's "forced" limited production of the iPhone 4 and iPhone 4S, as the market has gravitated toward lower end devices.
But he sees a new low-cost iPhone, rumored by some to be dubbed the "iPhone 5C," potentially carrying gross margins of about 40 percent, higher than the company's current average. This implies a hardware bill of materials at around $160, and a wholesale price of about $340, thanks to parts and construction costs potentially lower than the iPhone 4S or iPhone 4.
In this way, Marshall believes the new low-cost iPhone could prove "crucial" to Apple going forward. He sees the device actually improving Apple's overall margins, and also driving market share gains in international, emerging markets where cheaper smartphones are preferred.
Currently, the penetration rate of the iPhone is much higher in developed regions where smartphone subsidies with two-year contracts are the norm. Marshall estimates that Apple's penetration rate was about two times greater in the U.S. versus international markets in the June quarter.
In addition, the analyst noted that Apple has "glaring holes" in its global carrier partner base, most notably China Mobile, which is the largest wireless provider in the world with about 740 million subscribers. Another key missing partner is Japan's NTT DoCoMo, which has about 62 million subscribers.
Marshall is hopeful that Apple will be able to ink deals with those major carrier in the near future, allowing the company to access a large number of new potential customers. ISI Group remains bullish on AAPL stock, reiterating its "strong buy" recommendation with a price target of $600.