Production of next-gen iPad mini's Retina display reportedly near 2012 launch levels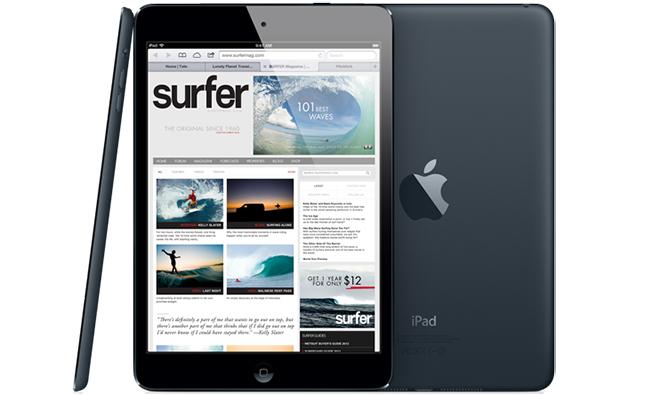 A report late Wednesday said Apple's partner suppliers have ramped up production of high-resolution LCD panels bound for the next-generation iPad mini, with output holding steady at the same levels seen during the tablet's launch last year.
Citing data from market research firm IHS iSuppli, CNET reported that display production for Apple's second-generation iPad mini is now at a level "similar" to that seen when the tablet was first unveiled in November 2012. The publication adds to recent rumors that claim Apple's tablet will sport a high-resolution Retina panel.
The firm's director of mobile and emerging displays, Vinita Jakhanwal, noted volumes are similar to the fourth quarter of last year. LG Display is expected to be the primary screen supplier for the Retina iPad mini, at least initially, with existing Apple partner Sharp expected to follow later in the production cycle.
A recent report from The Wall Street Journal said Apple may add Samsung to the supplier list despite the two companies' ongoing legal disputes and status as rival manufacturers. The move is thought to ensure that an adequate number of units will be available for launch.
The next-gen mini is expected to keep the 7.9-inch form factor, but up resolution to 2,048-by-1,536 pixels. This equates to a pixel density of 324 pixels per inch.
Finally, Jakhanwal said AU Optronics has also started furnishing Apple with 7.9-inch panels for current-generation models, but it is unclear if the company will be able to scale up its technology to meet Retina display requirements.
Rumors regarding a launch date for Apple's 'iPad mini 2' have been scattershot. Some say the the tablet will see release in the fourth quarter, while others predict a launch won't happen until 2014. Most recently, KGI analyst Ming-Chi Kuo said Apple is likely to introduce two new versions of the tablet, a low-cost non-Retina model and a premium Retina iteration, in March or April of next year.