Supposed gold color variant of next iPhone shown off in pictures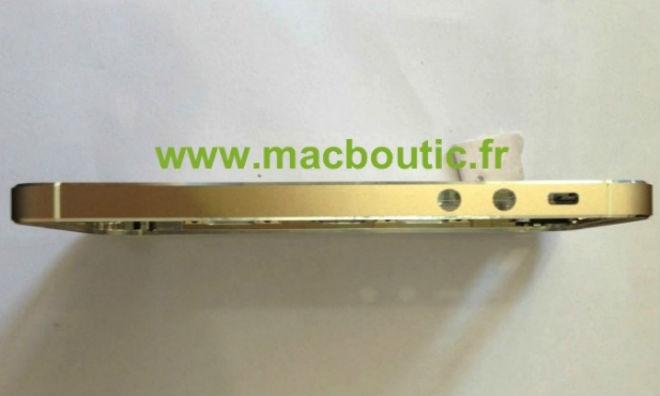 AppleInsider may earn an affiliate commission on purchases made through links on our site.
Images have emerged of the rear casing for an apparent next-generation "iPhone 5S," adding fuel to rumors that Apple will offer its bestselling handset in not only black and white models, but also in gold.
Recent iPhone leaks this year have largely focused on an expected low-cost, plastic model, but French site MacBoutic [via Engadget] uncovered what appears to be the rear casing from the higher-end "iPhone 5S." All logos are missing from the device, but it does retain the same form factor as the iPhone 5, and the color does not appear to be the result of an after-market process.
The notion of a gold colorway for Apple's top-selling handset first emerged in May, when component photos showed a gold SIM tray. Since then additional images have emerged, lending credence to the notion of an additional color option for the high-end model.
Most recently, well-informed KGI analyst Ming-Chi Kuo predicted a gold option for the next iPhone, as well as the option for 128GB of internal storage.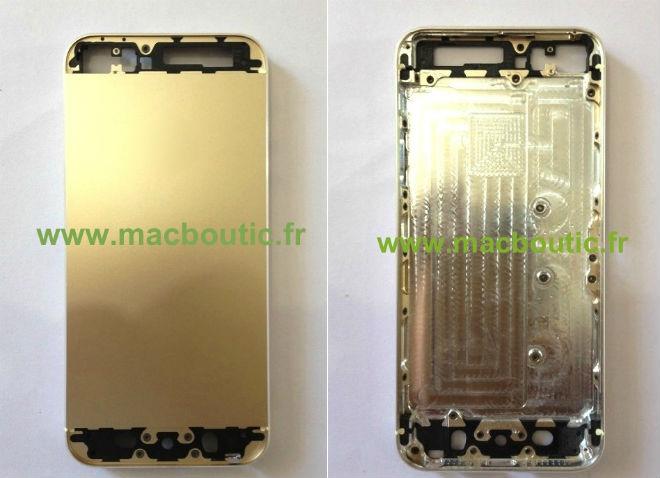 Colors may play a big part in the next generation of iPhone, as Apple is also expected to debut its lower-cost model with a wide range of color options.
In addition to a wider selection of colors, the new high-end iPhone is expected to sport Apple's A7 system-on-a-chip design with 1GB of LPDDR3 RAM. That chip is said to be of Apple's own design, with a 20 percent increase in efficiency over its predecessor.
It may also pack a fingerprint sensor embedded in the device's sapphire glass home button. A fingerprint sensor would greatly help Apple to distinguish itself from competing manufacturers by significantly increasing device security.
Both the low-end and higher-end models of iPhone are expected to debut next month at a September 10 media event. Apple has not yet confirmed such an event, but the notoriously secretive Cupertino company typically does not send out invitations to such functions until just a few days before.