Google Play gaming revenue moves ahead of Sony and Nintendo portables, still trails Apple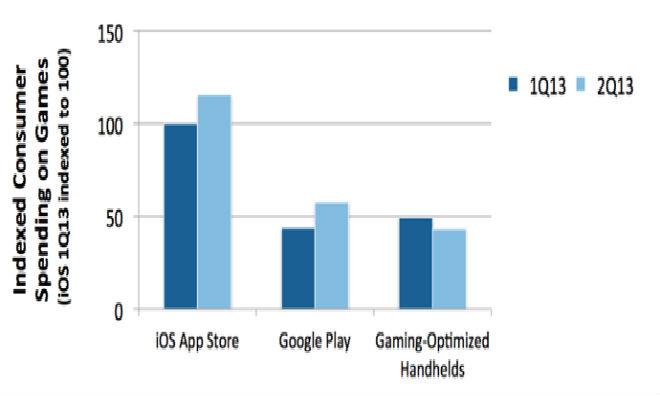 AppleInsider is supported by its audience and may earn commission as an Amazon Associate and affiliate partner on qualifying purchases. These affiliate partnerships do not influence our editorial content.
Google Play-hosted games have moved into the second place spot behind iOS games in terms of revenue generated, putting the digital store ahead dedicated portable game consoles from both Nintendo and Sony.
The revenue jump happened over the past quarter, according to app industry analyst App Annie. The firm's latest Portable Gaming Report found that revenue from dedicated portable gaming devices dropped year-over-year, while revenue for Google's Play Store and iOS App Store games continued to rise.
Consumer spending on games for iOS and Android is now four times the revenue seen by dedicated gaming handhelds.
The latest figures mark the continuation of a trend that began with the debut of Apple's iOS App Store. As smartphones grow in power and popularity, it is increasingly difficult for many consumers to justify the cost of a dedicated gaming handheld.
With 225,000 units sold in July, Nintendo's 3DS was the bestselling gaming console for that month in the United States. It must compete, though, with millions of iOS and Android devices being sold in the same time span. Those devices are also often easier to develop games for, and the titles are sold at a lower price.
The pace at which mobile gaming is outstripping the traditional portable gaming may well be accelerating. A App Annie study from May found iOS and Android gaming revenue to be only three times greater than dedicated portable consoles.
Traditional game makers have taken notice of trends in the industry. Sony cut the price of its PS Vita in Japan earlier this year, and just this week the Japanese electronics giant announced that the portable would be available for $199. Nintendo, meanwhile, has taken to courting developers in hopes of bringing some of the best selling mobile OS games over to its touch-capable Wii U and portable 3DS.