Apple's iPhone grows to 43% share among US smartphones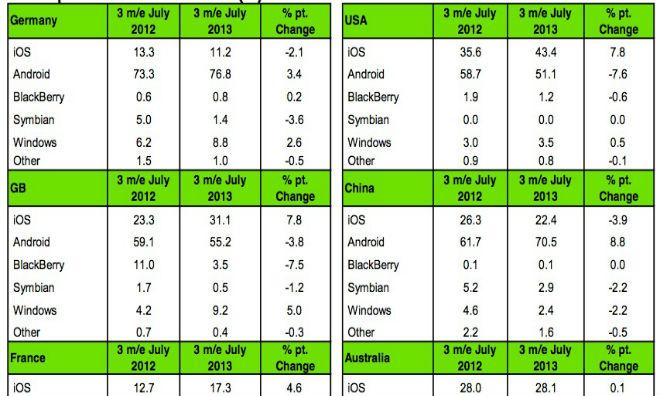 Apple's iPhone continues to expand on its lead as the most popular smartphone in the U.S., taking more than 40 percent of the American market, according to new figures from Kantar.
The newest report from Kantar Worldpanel ComTech shows the iPhone with a 43.4 percent share of the United States market for the three months ending in July. That represents a 7.8 percentage point increase over the same period from a year ago. The United States, according to Kantar's numbers, remains Apple's strongest market, though the iPhone saw identical growth in Great Britain, where it jumped 7.8 points year-over-year to take a 31.1 percent share.
Apple's year-over-year growth in the United States came almost entirely at the expense of Google's Android platform. Android, which still powers a majority of smartphones in the U.S., saw its share shrink by 7.6 points. Combined, the two platforms make up 94.5 of the smartphone market in the U.S.
Kantar's figures reflect the numbers regularly seen from American wireless carriers. Over the past several quarters, the iPhone has consistently proved the most popular handset at each of the United States' largest carriers. In the last quarter, the iPhone accounted for 51 percent of smartphone sales at Verizon, more than half at AT&T, a sizable portion of sales at Sprint, and 29 percent of T-Mobile's gross customer additions and upgrade smartphone sales.
Apple's iOS is solidly the second-most popular platform in every nation Kantar examined, save Mexico, where it lags both BlackBerry and Windows Phone. In every region examined, except for Germany and China, Apple grew its smartphone market share from July 2012 to July 2013, with the largest growth in the U.S. and Great Britain.
Kantar's report does not paint a rosy picture for any competing operating systems, though. In the U.S., ever-struggling BlackBerry lost another 0.6 percentage points, dropping to just 1.2 percent share. BlackBerry saw equally dismal numbers across the big five European markets, where it now holds only 2.4 percent share.
Microsoft's Windows Phone platform saw an increase in share, but one of only 0.5 points. Europe, though, was more encouraging for the Redmond giant, which has famously struggled toward relevance in the mobile segment. In the big five E.U. nations, Windows Phone jumped from 4.9 to 8.2 percent share over the past year, higher share growth than any other platform saw over the same period in that region. In Germany and Great Britain, Microsoft's platform is approaching 10 percent, while in France it sits at 11 percent.
Microsoft's gains, though, have come in no small part due to the availability of low-cost Windows Phone devices, evidenced by the figure showing that 42 percent of Windows Phone sales over the past year came from consumers upgrading from a featurephone.
Apple, with its larger, more developed app library, could very well slow or reverse Windows Phone's momentum in some markets should it introduce a lower-cost model of its iPhone, as the company is expected to do next week. Previous analyses have speculated that Apple could address 65 percent of the smartphone market depending on the pricing and availability of just such a device.