Microsoft starts buying used iPads for $200 Microsoft Store gift cards, pushes Surface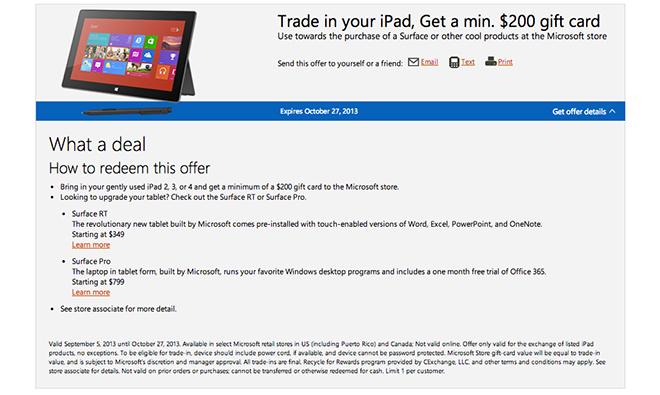 Microsoft announced on Thursday that it has initiated a limited time offer which allows iPad owners to trade in their old tablets for at least a $200 gift card, which can be applied to a Surface RT, Surface Pro, or any other product at the company's retail stores.
The offer, which runs through Oct. 27, appears to be aimed at luring iPad users away from the Apple ecosystem and pushing them toward Microsoft's floundering Surface devices.
According to Microsoft's website, "gently used" iPad 2 tablets, as well as third- and fourth-generation iPads, can be swapped for a minimum $200 Microsoft Store gift card at the company's retail outlets. The ad recommend those interested in upgrading their tablet to look at the Surface RT or Surface Pro.
Microsoft's new initiative comes after the Redmond tech giant permanently slashed the price of its Surface Pro by $100, bringing the 32GB version down to $799 and the 64GB model to $899. That program came on the heels of a push in education that promised free Surface RT units to schools using the Bing search engine.
Microsoft has had a rough time with its foray into the tablet hardware sector. Earlier this year, the company had to take a $900 million write down for unsold Surface inventory and advertisement costs associated with Windows 8.
A next-generation version of the Surface is already in the works, though final specifications and pricing have yet to be announced. Microsoft will be revealing more details regarding the future device at an event later this month.