Apple continues decade of domination in personal computing customer satisfaction rankings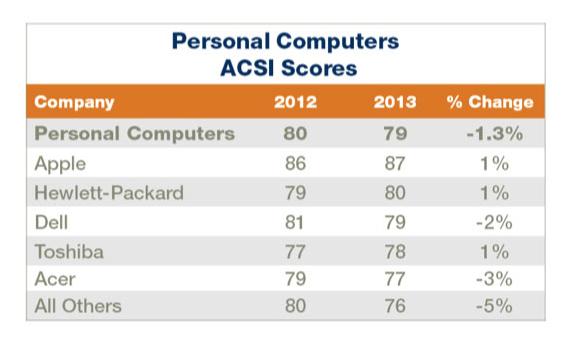 AppleInsider is supported by its audience and may earn commission as an Amazon Associate and affiliate partner on qualifying purchases. These affiliate partnerships do not influence our editorial content.
The American Customer Satisfaction Index's 2013 rankings are out, and Apple has maintained its stranglehold on the top spot of the personal computing sector for the tenth year in a row.
Apple's customers continue to be the happiest of any major personal computer maker, according to the 2013 edition of ACSI's long-running "Household Appliance and Electronics" consumer satisfaction benchmark study. The Cupertino company brought home an ACSI score of 87, up one percentage point from the 2012 study.
To compile an ACSI satisfaction score, a number of metrics are compiled from evaluations of each company, including customer expectations, perceived quality, perceived value, customer complaint and customer loyalty. Evaluation indexes are based on a 100 point scale, with metrics being "self-weighted."
Overall customer satisfaction with personal computing devices — a category in which ACSI includes laptops, desktops, and tablets, though notably not smartphones — came in at 79, down 1.3 percent from a year ago. Among PC manufacturers, only HP joined Apple in besting the benchmark score, while Dell, Toshiba, and Acer rounded out the top five spots in the rankings.
"Customer expectations of computer products are high, and the industry is under pressure to keep up with ever-growing demand for devices that are faster, more powerful, and offer innovative and improved features," notes the report.
ACSI cautions that while Apple enjoys strong satisfaction ratings, they may not positively correlate to sales as the tablet market approaches saturation. However, the study notes, Apple's iPads still account for 80 percent of all tablet usage in the United States.