Apple sells out of initial iPhone 5s supply in under 2 days, shipments pushed to October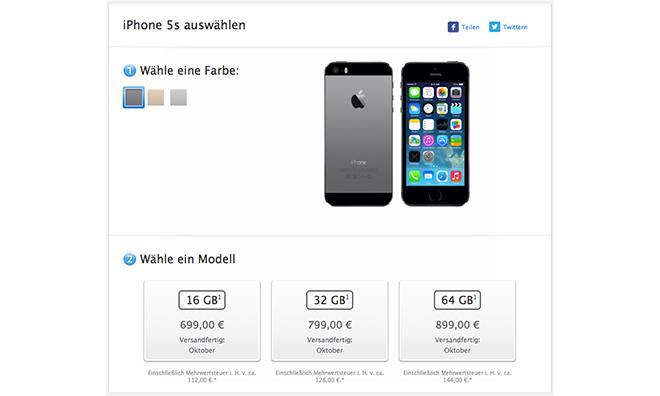 Less than two days after Apple began its worldwide rollout of the iPhone 5s, the company's Online Apple Stores in each of the 11 countries participating in the phone's launch are showing stock outs until October.
As of late Saturday, Apple's online storefronts in Australia, Canada, China, France, Germany, Hong Kong, Japan, Puerto Rico, Singapore, the UK and US all show no available inventory for all nine iPhone 5s variations, with delivery dates pushed back into October.
After the iPhone 5s launched on Friday in Australia, supply of the handset was quickly depleted at both online and brick-and-mortar Apple Stores, a trend that continued as sales of the phone rolled out around the world.
The stock outs are in line with prediction from U.S. cellular carriers, some of which signaled on Tuesday that demand may outstrip supply as inventory was said to be "grotesquely" low. AppleInsider was able to verify that a number of carrier stores, like AT&T, received only a limited number of iPhone 5s units, and no gold models.
First to go in each country was the new gold version, stock of which was rumored to be severely constrained prior to launch day. China's iPhone 5s reservation system, meant to dissuade scalpers and manage crowds, foreshadowed the high demand when it opened earlier this week.
The 64GB "Space Gray" iPhone 5s was next to sell out online in a number of countries, with multiple reports coming in saying the model swiftly sold out at physical Apple Stores in the U.S., Canada, Australia, France, the UK, China and Hong Kong. Supply of the silver iPhone 5s, the only color to carry over from the iPhone 5, was last to sell out in many countries, with some still quoting delivery times of 7 to 10 days as late as this morning.
Although it took longer for the iPhone 5s to sell out compared to last year's iPhone 5, a number of factors are in play, including the simultaneous release of the cheaper iPhone 5c. Supply for the 5c is still high, with the Online Apple Store quoting ship-by times within 24 hours.