Apple revises guidance upward following iPhone launch, expects 36-37% gross margins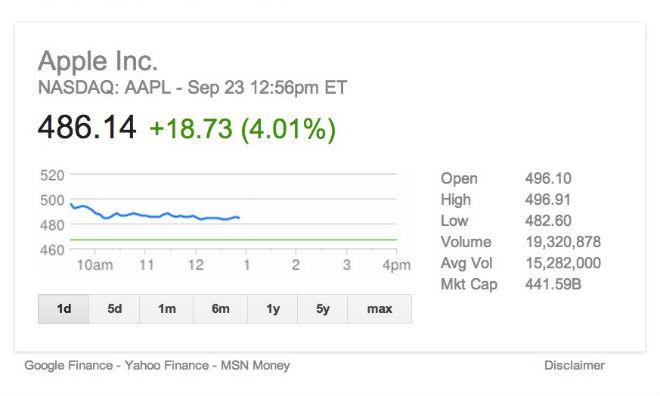 Having just announced record sales figures for its latest iPhone models, Apple has revised its earnings estimates upwards in order to reflect its considerable sales.
Apple filed its Form 8-K on Monday, informing the Securities Exchange Commission and the investor community that it "expects total company revenue for the fourth quarter to be near the high end of the previously provided range of $34 billion to $37 billion." The first line in the filing makes reference to Apple's earlier revelation that it sold more than nine million new iPhones over the weekend following the devices' Friday launch.
In addition to the revised revenue numbers, Apple also tweaked its prediction for quarterly gross margin. The iPhone maker now believes gross margin for the September quarter will fall at the higher end of its previous range of between 36 and 37 percent.
Monday's 8-K filing, along with the announcement of strong iPhone sales, could signal good things for Apple shares going forward. As of 12:56pm EST, AAPL was at $486.14, up 4.01 percent on the day. Some analysts appear to be holding off on upgrading the stock until the wave of early adopters subsides and a observers get a better view of how the iPhone 5s and iPhone 5c are selling. UBS, which previously expressed cautious optimism for the iPhone 5c, retained its Neutral rating on AAPL, and a $520 price target, even following the launch weekend sales announcement and Monday's guidance revision.
"The first weekend numbers are encouraging," the report read, "though with wider availability and product cycles seemingly compressing it is difficult to know how far to extrapolate the figures.