Microsoft outs new Surface 2, Surface Pro 2 in latest pitch to tablet generation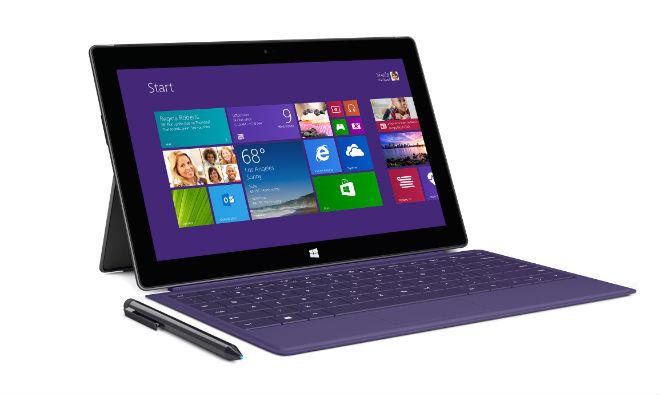 Microsoft on Monday used a media event in Manhattan to show off the next wave of its Surface devices, doubling down on an effort to simulate Apple's widely successful ecosystem by which the company is responsible for developing both the tablet's software and hardware.
The new devices — the Surface 2 and the Surface Pro 2 — are follow-ups to the Surface RT and Surface Pro, two tablets Microsoft released in this past October and January, respectively. Among their highlights are tweaked design elements and improved internals, as Microsoft tries to improve on the abysmal record of its first generation of computing hardware.
Surface RT lives on as Surface 2
The Surface 2 marks Microsoft's continuing effort to establish a market for Windows RT, a version of its operating system built to run on the same ARM chipsets powering much of today's mobile technology. The new version has a 1080p display, USB 3.0 ports, and what some believe to be an Nvidia Tegra 4 processor. Its battery life is also 25 percent longer than its predecessor while its entry level price has been knocked down to $450, which is $50 less than the original Surface RT.

The Surface RT — and, indeed, Windows RT in general — is generally considered a failure for Microsoft, one that has cost the Redmond giant hundreds of millions of dollars.
Initially seen as a way to get a foothold on the ARM platform, Windows RT is believed to have confused users, and the inability for the OS to run legacy Windows apps is generally seen to have hobbled its chances. The Surface RT, which runs Windows RT, fared little better, and Microsoft wrote down $900 million on the initial run of Surface RT devices due to poor sales.
Surface Pro 2 gets Haswell, new peripherals
The Surface Pro 2 has little in the way of redesign about it, at least with regard to aesthetics. The laptop-tablet hybrid has only seen one major design shift: the addition of a second possible position for its built-in kickstand.
Internally, though, the Surface Pro 2 has several considerable upgrades. In terms of storage, the device is now available in 256GB and 512GB configurations as well as the 64GB and 128GB options consumers had with the original Surface Pro. The devices also have the option of 8GB of RAM.
Perhaps most importantly, the Surface Pro 2 has significantly more battery life than its predecessor. Microsoft updated the device with Intel's new Haswell line of processors. Those chips give Apple's newest MacBook Airs battery life in excess of 9 hours. With the Surface Pro 2, Microsoft touts 75 percent higher battery life thanks to Haswell chips. Depending on a user's activities, that could amount to roughly eight hours of use.
Microsoft is still trying to position the Surface Pro 2 as a form of laptop replacement. In presenting the device on Monday, company officials pointed out that the Surface Pro 2 should be faster than 90 percent of laptops on the market. It is also said to be 20 percent faster than the original Surface Pro.
While still underperforming, considering the amount of money and marketing Microsoft put behind it, the Surface Pro was decidedly the more successful of Microsoft's two initial tablets. The entire first generation of Surface devices is believed to have generated about $853 million for Microsoft, with the Surface Pro accounting for most of that revenue.
Accessories, accessories, accessories
Monday's unveiling also saw Microsoft placing a good deal of focus on accessories for Surface devices. The company revamped both its Touch Cover and Type Cover keyboard attachments. The Touch Cover 2 now has 1092 sensors built in — more than 10 times the number Microsoft included in the original Touch Cover capacitive keyboard cover, which won points for novelty but was ultimately panned in the press due to unresponsiveness.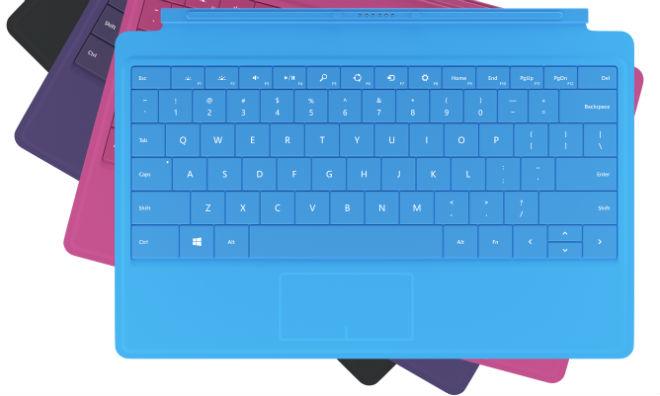 The diminutive mechanical keyboard, dubbed Type Cover, also saw an update on Monday. With Type Cover 2, Microsoft took roughly a millimeter out of the travel distance for the physical keys, making the device about as thin as the first generation Type Cover.
Beyond the two standard keyboard covers, Microsoft also showed off another model, dubbed the Power Cover. Power Cover also includes a hardware keyboard, but it packs in additional battery power, adding up to 30Wh to a Surface unit. That could boost battery life up to 50 percent, meaning the new Surface Pro could last up to two and a half times longer than its predecessor. The firm also showed off a mixing-pad attachment that clicks onto the Surface, giving users the ability to remix their own music on the go, as well as a dock that the Surface can plug into, giving it capabilities closer to that of a desktop computer.