Microsoft to extend iPad buyback program to iPhones this week, report says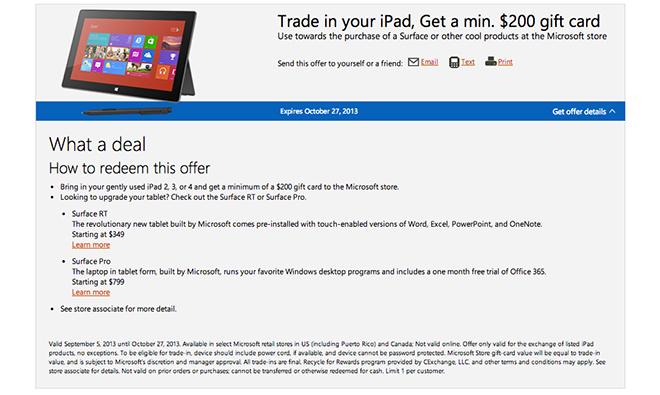 AppleInsider is supported by its audience and may earn commission as an Amazon Associate and affiliate partner on qualifying purchases. These affiliate partnerships do not influence our editorial content.
Following up on an initiative meant to woo users away from their iPads by offering at least $200 for used examples of the tablet, Microsoft is now said to be preparing an extension of the deal to include used iPhones as well.
Sources tell Forbes that Microsoft will add used iPhones to the list of Apple products it is willing to buy as part of its "#timetoswitch" campaign. The handsets can be exchanged for a gift card good for at least $200 in the company's retail stores.
Starting this Friday, select Microsoft Stores in the U.S. and Canada will begin handing out a minimum of $200 worth of in-store credit to those who bring in an iPhone 4S or 5. Prices may be higher for devices in especially good condition.
With the iPhone buyback scheme, Microsoft is hoping to gain new Windows Phone users, much like the ongoing iPad trade-ins which are meant to convert consumers to the company's Surface tablets.
In addition to the Apple-focused strategy, Microsoft is also running a wider online campaign that offers Visa gift cards for Apple, Android and Blackberry devices. Unlike the brick-and-mortar trade-ins for the iPad and iPhone, this offer is not restricted to physical retail locations.
Microsoft's Windows Phone platform has flopped compared to market leaders Google and Apple. In comScore's latest MobiLens survey for the three-month period ending in July, Android accounted for 51.8 percent of U.S. smartphone users, while Apple's iPhone took 40.4 percent. Even Blackberry, which was bought out on Monday, held a 4.3 percent share of the market, compared to Microsoft's fourth-place finish with 3 percent.
The Redmond, Wash., company is looking to turn things around, however, and the recent buyback campaigns are part of that drive. Further, Microsoft is delving deeper into the mobile computing hardware industry, as evidenced by the substantial $7.2 billion purchase of Nokia's cellphone business. That deal also included licensing rights to branding, patents and services like the HERE mapping system.