Apple's iPhone holds 40% share of US smartphone market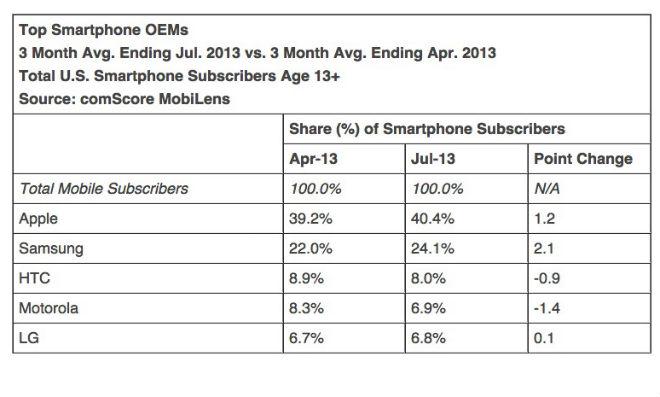 The iPhone has kept Apple in the number one spot among manufacturers for the U.S. smartphone market yet again, with Apple's bestselling device actually growing its share from the previous quarter.
The newest figures from comScore MobiLens and Mobile Matrix show Apple with a 40.4 percent share of U.S. smartphone subscribers for the three months ending July 2013. That figure is up 1.2 percent from Apple's share in the three months ending April 2013.
Samsung saw its share grow 2.1 points in the three months, but the South Korean conglomerate remained a distant second to Apple among manufacturers. In third and fourth place, HTC and Motorola both lost share, dropping to eight and 6.9 percent, respectively. In fifth place, HTC saw its share tick up just one-tenth of one point to 6.8 percent.
Overall, Google's Android platform remains the most popular operating system in the United States, with 51.8 percent share of the market. That figure, though, is down 0.2 points from April, while Apple's share rose 1.2 points. As Apple is the sole provider of both the iPhone and the iOS platform that powers it, its 40.4 percent share as a manufacturer is identical to iOS' share among mobile platforms.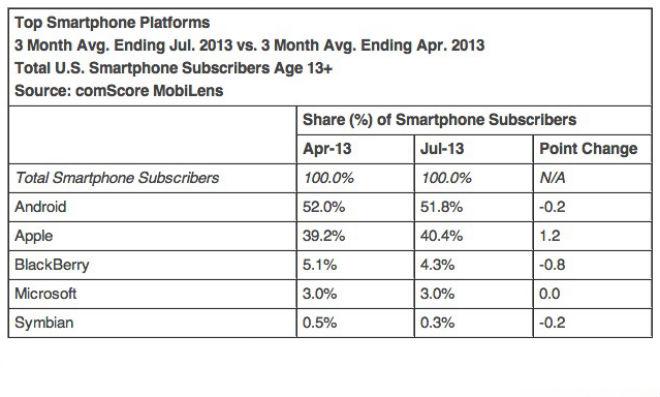 The ever-struggling BlackBerry saw its share continuing to drop, shedding almost a full point to end July with 4.3 percent of the smartphone market. Microsoft's Windows Phone platform, though boosted by improving sales of Nokia's Lumia line, remained steady at three percent share for the three months.
comScore's latest figures are in the same line as previous studies by other industry analysts. Those examinations have found Apple picking up steam in the U.S. market, with Android maintaining the majority but slipping all the while. Together, the two platforms account for more than nine out of ten smartphones shipped worldwide.