Latest over-the-air update adds Major League Soccer to Apple TV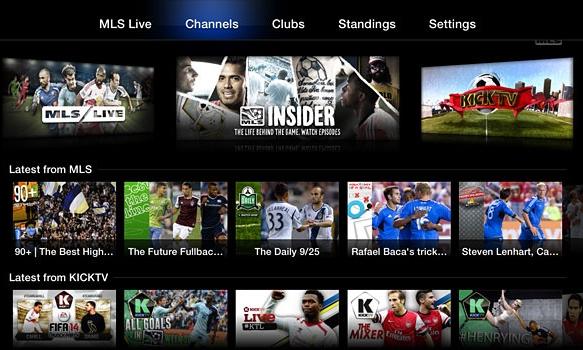 An Apple TV content update supplied on Thursday has added video from Major League Soccer, as well as the Disney Junior channel.
MLS for Apple TV includes free on-demand video highlights, analysis, fantasy soccer advice, and player profiles. Viewers can also watch full episodes of the series "MLS 36" and "MLS Insider."
The new application available on the Apple TV home screen also offers the latest league standings, and access to videos created by individual clubs.
Users who have an MLS Live subscription for $14.99 per month also have access to live streaming and archived versions of regular season matches, though local and national blackout rules apply.
MLS joins the National Basketball Association, Major League Baseball, and the National Hockey League in offering live streaming of games to subscribers on the Apple TV.
Also added on Thursday is Disney Junior, making it the latest channel from Disney to arrive on the Apple TV. Last month, the company also added Disney Channel and Disney XD to the Apple TV lineup.
Apple has been steadily adding channels to the Apple TV through new dedicated apps throughout 2013. That August update also added Vevo, Weather Channel and Smithsonian Channel, while a separate June update added HBO Go, WatchESPN, Sky News, CrunchyRolle and Qello.
Apple's set-top box was also updated with software version 6.0 last week, adding support for iTunes Radio and AirPlay content from iCloud, such as iTunes Movies or music from iTunes Match, to another person's Apple TV.