Goldee companion app for Philips Hue bulbs offers shifting dynamic light 'scenes'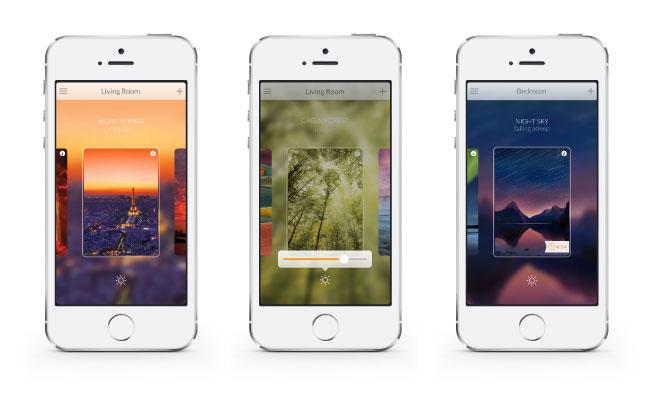 AppleInsider is supported by its audience and may earn commission as an Amazon Associate and affiliate partner on qualifying purchases. These affiliate partnerships do not influence our editorial content.
Philips Hue app-controlled light bulbs have gained a slick new control interface with Thursday's launch of Goldee, a new free iPhone app.
Philips launched their Hue line of LED-based, app-controlled light bulbs exclusively at Apple stores a year ago. The Hue's ability to adapt the lighting in a room to fit the situation or set a mood — to shift from concentration mode during a study session to relaxation mode when the family came home, for example — at the touch of a button on your smartphone was a revelation, but for some, the controls offered by Philips's official iPhone app left much to be desired.
In the void, a well of competitors sprang up, from apps that helped you launch a disco party with your 3-bulb starter set to some that allowed the bulbs to be controlled from Web services before Philips launched their first-party If This Then That integration. Now, the newest Hue companion app, Goldee, seeks to separate itself from the pack with an intuitive user interface and an innovative feature called dynamic light scenes.
"We couldn't find anything that would utilize the full potential of the Philips hue bulbs, something that would allow the bulbs to create a magical ambience," Goldee CEO Thomas Baran said in a press release. "That's why we decided to make the Goldee app a reality."
The app brings some items found in other Hue companion apps — timed lighting changes, sleep timers, and "sunrise" alarms, which gradually increase the light in the room as the user's wake-up time approaches — and wraps them in a user interface that looks at home in iOS 7. However, Goldee's dynamic light scenes are the app's headline feature.
The dynamic light scenes, which the company says are composed of colors chosen by artists, work by slowly shifting and combining the light of each Hue bulb as the scene is running, much like natural light shifts as the sun moves or clouds roll overhead. There are ten scenes available at launch, and Goldee promises more will be added.