AT&T U-verse subscribers can now stream live TV on iPhone, iPad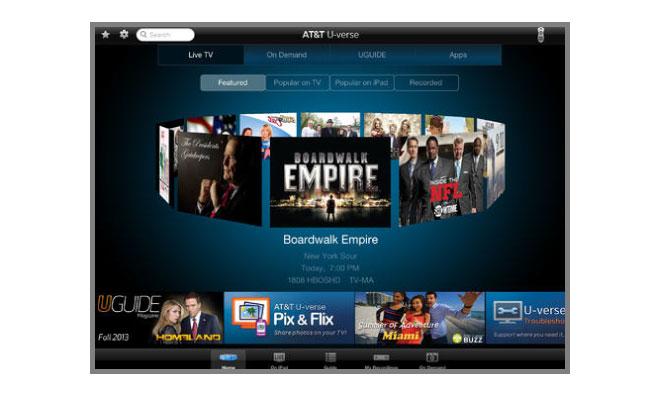 AppleInsider is supported by its audience and may earn commission as an Amazon Associate and affiliate partner on qualifying purchases. These affiliate partnerships do not influence our editorial content.
AT&T updated its U-verse applications for iPad and iPhone on Monday to enable live television streaming to iOS devices, both inside and outside the user's home.
Subscribers to AT&T's U-verse internet television service now have the ability to watch more than 100 live channels on their iOS devices from inside their home or more than 20 channels when outside their home, the company announced. AT&T says the service expansion is designed to enable "customers to watch TV on their terms when and where they want it."
At launch, CBS's Showtime, TMC, and Flix movie channel families are among the options available on the go alongside sports broadcasting channels the NFL Network and the Pac-12 Network, home to college athletics from schools such as the University of Oregon and Stanford University. Popular options like CNBC, HBO, Comedy Central, and Food Network are only available when customers are at home.
AT&T promises more live channels will be added "on an ongoing basis."
U-Verse — a bundled offering of broadband internet, voice-over-IP telephony, and IP television — is the fastest-growing television provider in the United States, but competition is fierce for an increasingly mobile customer base. Verizon's FiOS, a similar bundled service that operates on the company's new fiber-to-the-home network, began offering a small selection of channels for live mobile streaming last month.
Additionally, nontraditional providers like Aereo, which uses arrays of small television receivers to capture and broadcast over-the-air television signals to the internet, are gaining traction and putting pressure on more expensive bundled services. Aereo, which costs less than $10 per month, aims to be available in over 20 cities by the end of 2013.