Best Buy trade-in offer to take any working smartphone for at least $100 toward iPhone 5s, 5c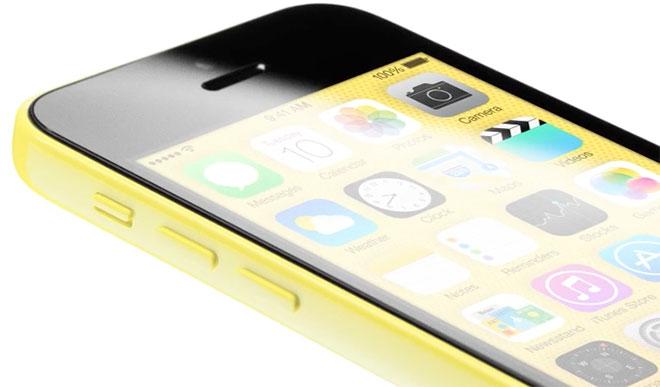 Electronics retailer Best Buy appears on the verge of kicking off another trade-in program aimed at getting iPhone 5s and 5c customers through its doors, this time offering a minimum of $100 toward the purchase of one of Apple's two new phones in exchange for any working smartphone.
The new trade-in offer will launch on Friday, October 11, for customers interested in the iPhone 5c, according to an apparent internal document obtained by TechnoBuffalo. Those interested in the iPhone 5s can take advantage of the option beginning October 13. For both phones, the promotion will run through October 19.
According to the document, the trade-in program will see Best Buy offering a gift card for at least $100 in exchange for any working smartphone. That gift card must be used toward the purchase of an iPhone 5c or an iPhone 5s with a two-year contract on a supported carrier.
Devices eligible for trade-in must power on, and devices that are water damaged or that have cracked screens are not eligible for the program. Customers bringing in smartphones in their original packaging or with their original accessories may also see their trade-in values increase.
Interested customers may also want to call ahead to their local Best Buy location, as the document notes that the offer may not be valid at all locations.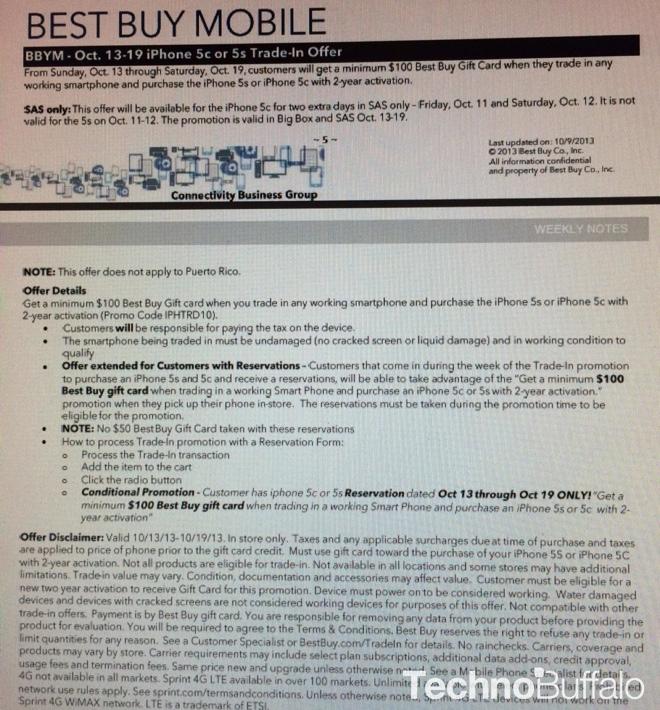 This apparent new program would be the latest in a string of iPhone-centric deals the electronics retailer has offered. Current iPhone owners looking to upgrade to one of Apple's newer models can take advantage of a wealth of options to trade-in their iPhones.
AppleInsider also hosts an iPhone trade-in guide with current cash payout prices for each iPhone (and iPad) model to help readers get the most out of their existing devices, and help offset the cost of new ones (relevant portion below).

Flawless


Good

Broken
Current iPhone Trade-in Payouts (Oct 10th 2014)
iPhone 3G 16GB (AT&T or Unlocked)
$12
$10
$0
iPhone 3G 8GB (AT&T or Unlocked)
$12
$10
$0
iPhone 3G S 16GB (AT&T or Unlocked)
$12
$10
$5
iPhone 3G S 32GB (AT&T or Unlocked)
$12
$10
$5
iPhone 3G S 8GB (AT&T or Unlocked)
$12
$10
$5
iPhone 4 16GB (AT&T or Unlocked)
$105
$100
$50
iPhone 4 16GB (Verizon)
$80
$75
$30
iPhone 4 32GB (AT&T or Unlocked)
$110
$105
$50
iPhone 4 32GB (Verizon)
$82
$77
$30
iPhone 4 8GB (AT&T or Unlocked)
$100
$95
$50
iPhone 4 8GB (other)
$55
$50
$20
iPhone 4 8GB (Sprint)
$65
$60
$20
iPhone 4 8GB (T-Mobile)
$70
$65
$20
iPhone 4 8GB (Verizon)
$65
$60
$20
iPhone 4S 8GB (AT&T or Unlocked)
$170
$160
$70
iPhone 4S 8GB (other)
$130
$120
$50
iPhone 4S 8GB (Sprint)
$150
$140
$60
iPhone 4S 8GB (T-Mobile)
$150
$140
$60
iPhone 4S 8GB (Verizon)
$150
$140
$60
iPhone 4S 16GB (AT&T or Unlocked)
$175
$165
$80
iPhone 4S 16GB (other)
$140
$130
$60
iPhone 4S 16GB (Sprint)
$160
$150
$65
iPhone 4S 16GB (T-Mobile)
$160
$150
$65
iPhone 4S 16GB (Verizon)
$160
$150
$65
iPhone 4S 32GB (AT&T or Unlocked)
$180
$170
$80
iPhone 4S 32GB (other)
$140
$130
$60
iPhone 4S 32GB (Sprint)
$165
$155
$65
iPhone 4S 32GB (Verizon)
$165
$155
$65
iPhone 4S 64GB (AT&T or Unlocked)
$185
$175
$80
iPhone 4S 64GB (other)
$140
$130
$60
iPhone 4S 64GB (Sprint)
$170
$160
$65
iPhone 4S 64GB (Verizon)
$170
$160
$65
iPhone 5 16GB (AT&T or Unlocked)
$280
$270
$110
iPhone 5 16GB (other)
$210
$200
$80
iPhone 5 16GB (Sprint)
$210
$200
$80
iPhone 5 16GB (T-Mobile)
$250
$240
$80
iPhone 5 16GB (Verizon)
$290
$280
$110
iPhone 5 32GB (AT&T or Unlocked)
$285
$275
$110
iPhone 5 32GB (other)
$215
$205
$80
iPhone 5 32GB (Sprint)
$215
$205
$80
iPhone 5 32GB (T-Mobile)
$260
$250
$80
iPhone 5 32GB (Verizon)
$295
$285
$110
iPhone 5 64GB (AT&T or Unlocked)
$290
$280
$110
iPhone 5 64GB (other)
$220
$210
$80
iPhone 5 64GB (Sprint)
$220
$210
$80
iPhone 5 64GB (T-Mobile)
$270
$260
$80
iPhone 5 64GB (Verizon)
$300
$290
$110