Pandora says iTunes Radio not affecting business, loses nearly 2M active listeners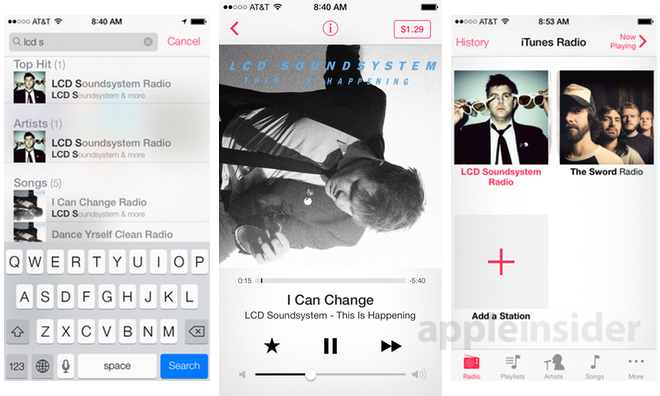 Pandora's chief financial officer Michael Herring touted the company's resilience in the face of Internet radio newcomer Apple, saying listening hours were up over eight percent in October despite the loss of some 1.8 million active listeners.
While 1.8 million people may sound like a large number, for Pandora, which counted 70.9 million active listeners in October, the fluctuation is in line with the company's forecast for the month, reports Bloomberg.
By comparison, Apple said 11 million people tried out iTunes Radio after it was first deployed. Speaking at the recent iPad event on Oct. 22, chief executive Tim Cook noted that Apple's radio service boasted 20 million users who played a collective 1 billion songs.
As for Pandora, listening hours actually grew 9 percent during the month in which iTunes Radio launched. According to Herring, Pandora's share of the U.S. Internet radio market stood at 8.06 percent at the end of October, up from 7.77 percent the month previous.
"October data was in line with our expectations and showed the resilience of our business," he said.
A number of reasons may be contributing to Pandora's continued growth. In a survey taken in October, 92 percent of iTunes Radio listeners said they still use Pandora. Many reported either going back to the service after trying out Apple's offering, or simply switching off between the two.
Alternatively, listeners may have been swayed by Pandora's decision to lift a 40-hours-per-month listening cap for free users. That change was implemented in September.
Before Apple's iTunes Radio launched on Sept. 18, Herring called the service a "credible threat," but was upbeat about Pandora's continued dominance in the sector.
Pandora is looking to expand operations beyond the U.S., Australia and New Zealand in the near future, and could use some of the nearly $400 million raised in a September stock offering for that purpose. The company is making preparations for international music licensing and royalty agreements, which in some countries call for upfront payments.
Apple's iTunes Radio is currently limited to the U.S., though a recent job listing for a content programmer hinted the service may soon arrive in Canada.
AppleInsider has affiliate partnerships and may earn commission on products purchased through affiliate links. These partnerships do not influence our editorial content.